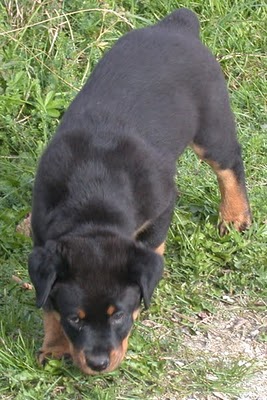 Who knew a Rottweiler puppy could change someone's life so much?
The author of the blog Dawg Business, Jana Rade, has likely asked herself this very question countless times. Her dog-loving husband, Jerry, brought one home one day, and the little female pup did just that. Before that point, Jana confesses, dogs were just okay, but not something she wanted in her own house. However, Jana immediately fell under the puppy's charm and playfulness, naming her Jasmine. That was almost seven (human) years ago, and much has happened to Jasmine in the ensuing time, including many vet trips and surgeries.
Jasmine was not the only one who underwent many changes through these experiences, though: Rade was once a graphic artist, and has since devoted her life to her dogs. This includes the development of a dog wellness ranch designed for Jasmine, her own pet, and a crack team of vets on hand to care for her. Additionally, Rade spends copious amounts of time researching dogs and all related topics. The story of Jasmine's adventures inspired her and Jerry to start this charming and informative blog largely devoted to helping pet owners know how to take the best care or their pets.
First, a bit more background on Jasmine. She immediately presented herself as a sweet and loving dog who quickly made friends with a neighborhood Boxer dog. Sadly, though, the Boxer's appearances became fewer and farther between, until Jana decided to add a companion Boxer dog, named J.D., for Jasmine's benefit.
All seemed to be well for Jasmine until a couple of years ago. After displaying strange symptoms such as panting and pacing and seeming discomfort, the family took her to a vet who diagnosed the dog with hypothyroidism. The poor pooch subsequently injured her ACL as well. Over the course of a year and a half, Jasmine endured several surgeries (some of which were exploratory or high-risk), and nearly died twice. Finally, it was discovered that Jasmine suffered from food allergies as well. Thankfully, this brave dog pulled through all of this and today, is good as new. Jana attributes this turn of health largely to now having a great veterinarian. She feels that if Jasmine had been cared for properly from the beginning, she would not have had to endure the painful procedures she did. Of course, she states, she can't turn back time and change the past events, but Jana has decided to "pay it forward" and educate pet owners on how to prevent similar experiences.
Many of the blog articles center around other dog owners' stories of injuries that Jasmine suffered. One such story is the account of a dog named Sandy, whose owner has her own blog here. Luanne, her owner, chronicled her own dog's ACL injury and her decision on a treatment course that some vets consider outdated and inferior, but that worked wonders for Sandy and that Rade's own vet uses routinely with positive results. In this post, she includes links to two separate studies that indicate the two treatment options appear to be equally effective, though she does state later that each one does have its own separate pros and cons.
Another of her posts clearly illustrates the difference between regular dog panting and panting as a symptom of a bigger problem. Naturally, since she noticed it in Jasmine and it turned out to be the latter, she is more sensitive to this topic. When addressing the question of worrying if panting is a normal behavior, she makes the astute observation that You share your life with your dog and nobody knows him better than you do. That's why it is so important for you to know when to start worrying. While this may seem rather obvious on the surface, as a pet owner, it is easy to fall prey to panic attacks the second a pet exhibits symptoms if you haven't been paying attention to his normal behavior all along.
Additionally, Rade has written several posts on behavior-and not just the pets'. One article asks why we choose the breeds of dogs we do, and finds some interesting correlations between so-called high-risk breeds and the people who choose to adopt them. Another article examines the term dominance in dogs and questions its overall accuracy.
Rade's blog is a fantastic source of information on a vast range of canine subjects, and she handles each topic with compassion and knowledge. What is especially impressive is her dedication to thorough research on the varied topics, as well as the team of vets with whom she has surrounded herself. Her open approach to other opinions and others' stories is particularly impressive. She manages to be sympathetic without coming across as too preachy, especially on owners' well-informed decisions regarding treatments.
Perhaps the blogs' best asset, however, is the concentration of articles that address dealing with vets. As with humans visiting our own doctors, it can be a frustrating experience. Though we are often encouraged to ask plenty of questions at our visits, we often clam up and keep them inside, or worse, we rely too heavily on the doctor to infer our problems without clear communication. How much more likely are we to do the same with our pets, who can't verbally express what they are feeling? Having gone through Jasmine's numerous illnesses and conditions, Rade learned early on what kind of questions to ask and what she herself could do at home to ensure that Jasmine was getting the best and most effective care from her vet. Thankfully, she has been kind enough to pass that information onto us, so that our pets may be spared the same pain.
What the Rade family endured was certainly a dreadful experience, but as long as she continues to enlighten her readers with such well-researched and thought-out information, Jasmine's trials will not have been in vain.