Disclosure: Some of the links in this post may be affiliate links, meaning, we may earn a commission (at no additional cost to you) if you click through and make a purchase. (learn more)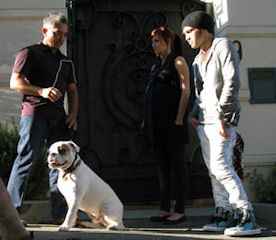 Ever watch Cesar Millan walk into someone's home, hear dog owners explain the issues going on with the family pet and then help the owners take control and become the leader of their pack? I once spent an entire Friday night watching episode after episode during a Dog Whisperer marathon.
Cesar Millan, the renowned dog behavior expert known as the Dog Whisperer, has a new show airing next week Sunday, December 28th, featuring pop star Ashlee Simpson-Wentz and "Fall Out Boy" bassist/lyricist Pete Wentz.
Here's a clip from the show:
Can Cesar help Ashley Simpson-Wentz and Pete Wentz learn to control their dog's obsession before the new baby arrives? Later in the episode, Cesar works with a retriever that has the bad habit of attacking anything between him and his food.
Here's a clip of Cesar working with Cricket – and RAW meat.
Should be a good show! I know where I'll be Sunday at 8pm.