Animal Rights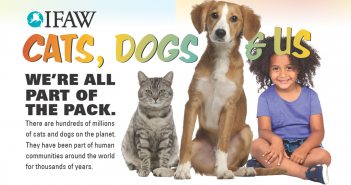 New Global Education Program Brings Compassion into the Classroom
Cats and dogs are two of the world's most universal species, living side by side with people in hundreds of millions of homes and communities in every human society on this planet.
Yet, on every continent and in every culture, dogs and cats continue to be subject to cruel and inhumane treatment. And a growing body of research has shown that violence against animals is connected to violence against people.
To help address the root causes of animal cruelty, the International Fund for Animal Welfare is launching a new global educational program, Cats, Dogs and Us, which introduces students ages 5-14 around the world to the many different ways that people live with cats and dogs and helps develop knowledge, skills, and empathy and respect.