Our family loves Air Bud movies so we thought we'd mention that the Air Bud World Cup DVD (Special Edition) goes on sale today.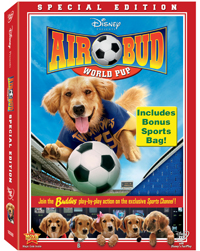 The whole family will get a kick out of the spectacular Special Edition of Disney's timeless canine adventure AIR BUD: WORLD PUP, including the all-new exclusive bonus, The Buddies' Sports Channel: Soccer Edition – and including a free limited edition sports bag to continue the fun after the film is done!
The world's most talented pooch is back in a heartwarming and hilarious sports adventure. When Buddy meets Molly and they have puppies, the hotshot hound is in for an all-new challenge, but the fun is just beginning. This exciting family favorite features Buddy joining his teenage owner Josh on the field in pursuit of the state soccer championship. From the creators of Santa Buddies and Space Buddies, the new AIR BUD: WORLD PUP SPECIAL EDITION will give audiences of all ages something to cheer about!
Movie Clips
First of all, puppies are too adorable:

And Air Bud movies are all about the sports scenes!

DVD Bonus Features:
All-New: The Buddies Sports Channel: Soccer Edition: Join Rosebud in the broadcasting booth as she
and the rest of the Buddies, B-Dawg, Mudbud, Buddha and Budderball, review the instant replay on the
amazing soccer career of their dad, Air Bud. Using on-camera footage and voiceover, the Buddies check
out highlights from AIR BUD WORLD PUP
Making Of Air Bud World Pup Production Featurette (from the original release)
Exclusive In-Pack "Air Bud" Sport Cinch Bag – a cool collectible sports bag, branded with the AIR
BUD logo, to carry the fun from the family room to the playing field