Spring is in full bloom and summer is right around the corner. It is now time to start planning our vacations. Our goal is to find pet friendly locations where a vacation can be enjoyed by both canines, felines and humans and share them with you.
Do you love spending time with your dog? Does a vacation in the beautiful Adirondack mountains surrounded by dogs and dog lovers sound like your idea of a fun? If this describes you then we would like to fill you in on a vacation at Canine Camp Getaway of NY. It is definitely not for everyone but honestly it is hard to resist for the true dog lover.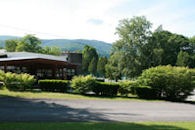 This is a once a year opportunity so set June 24-28, 2012 to visit the Roaring Brook Ranch in Lake George, NY. Your dogs are welcome everywhere from the swimming pool to the bar at Yappy Hour?
Canine Camp Getaway of NY was created for dogs and dog lovers and is the ultimate dog-friendly vacation. With nearly 300 acres, the resort offers a scenic paradise where each camp is filled with a host of fun-filled activities for dogs and their human companions. Dogs of all sizes, ages and abilities are welcome however they do need to be social with other dogs and humans.
There is a plethora of activities to entertain and education any furry buddy. It doesn't matter if your dog is young or old, high energy or a happy couch potato, an experienced athlete or a total novice, there are plenty of activities for them to enjoy. Instruction is provided for dogs of all skill levels, ages and abilities. Dogs can try their paw at a wide variety of dog sports, like frisbee, flyball, doggie skateboarding and dancing with dogs. You can also take it easy and hang out together by (or in) the pool.
Activities for the human guests are equally impressive. You will be able to get a doggy fitness evaluation, join an obedience class, get introduced to dog training, attend the scent detection workshop or seminars by veterinarians, trainers, behavior experts and dog nutrition pros. If you would like to learn canine cpr, that is also available.
On the leisure side you can go horseback riding, take zumba classes, country line dance or sing karaoke. After a fun filled day you can enjoy some nighttime entertainment in the bar/lounge (with a special dog-friendly section of the dining room). The neighboring town offers golfing, boating, outlet shopping, antiquing and more. For those who want a little private human time, the facility offers an onsite spa, a sauna and an exercise room.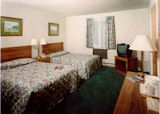 You will enjoy all the comforts of home with clean and comfortable rooms, including air conditioning, private baths, cable TV, telephones and wireless Internet spots on the premises. Three meals per day are included, with a generous breakfast that includes both hot and cold choices, a casual lunch and gourmet dinners, all with full wait service. The amazing backdrop of the Adirondack Mountains and the wide open space for recharging body, mind and spirit while strengthening the bond with your four-legged best friend is hard to beat! This resort vacation truly offers something for everyone!
Founder Janice Costa has been featured on The CBS Evening News with Katie Couric, MSNBC.com, Connecticut's "Pet Talk," "Pets Teach Us So Much" and "Women Making a Difference" radio shows, as well as in Fido Friendly magazine, Newsday, The New York Daily News, Every Day With Rachel Ray magazine, The Washingtonian, AOL's Paw Nation, ZooToo.com, DogTipper.com and numerous others.
Join Canine Camp Getaway on Facebook
Contact Janice Costa, Owner/Founder Canine Camp Getaway of NY