If you are serious about training your dog or earning the Associate Dog Trainer (ADT) Diploma or the Dog Behaviorist Diploma, you can now do it online at E-Training for Dogs.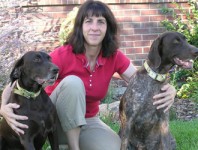 The company was established in 2005 by Dr. Cheryl Aguiar to provide educational programs to canine professionals as well as a vast array of Online Dog Training courses for dog owners and professionals, owners and enthusiasts have praised the new online courses being offered.
What we found intriguing about the site is the endless resources available to dog owners. Anyone can sign up and the individual courses really range from the simple to the complicated.
For example, you can learn first aid and cpr (a fantastic skill for any dog owner) or learn about curing canine anxiety, herbal remedies, house training your puppy, personal assistance dog training and much more.
The Associate Dog Trainer course will assist you in developing the necessary skills to become an effective dog trainer in the canine industry. You'll learn canine body language and how they interpret your body language, find out how dogs learn, how to put an end to common canine behavior problems and everything else in between to earn your diploma.
The Dog Behaviorist course will teach you dog behavior from theory to application, from puppy training to advanced dog training. You will learn exactly the way dogs learn. This course is excellent for anyone working in any capacity with dogs.
If you are thinking about starting a career in either dog training or becoming a dog behaviorist this is a convenient way to start! Both diplomas are awarded through the International College of Canine Studies.
The list of professionals and guest lecturers who are associated with E-Training is quite impressive to say the least. There are fees associated with the courses, of course, but they seem to be reasonable. After considering you can do it from the comfort of your home, the time and gas money you'll be saving makes a really viable option.
You can find eTrainingForDogs on Twitter and Facebook, too, to pick up tips about training your dog!