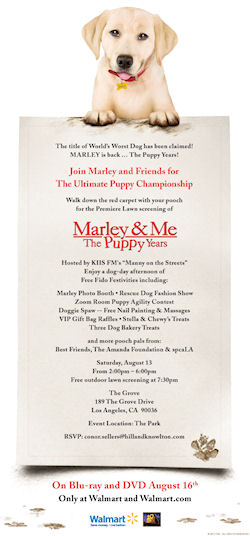 Marley's back, this time with an invitation to the lawn screening of The Puppy Years premiere!
If you live in or near Los Angeles, consider joining Marley and friends for the ultimate puppy championship and the live outdoor screening on Saturday, August 13th!
Enjoy a dog-day afternoon of FREE Fido festivities including a rescue dog fashion show, a zoom room puppy agility contest, a doggie spaw, VIP gift bag raffles, and lots more. HOsted by KIIS FM's "Manny on the Streets" the day is sure to be tons of fun for you and your four-legged friend. The finale?! Walk down the red carpet with your pooch for the Premiere Lawn screening of Marley & Me: The Puppy Years.
Saturday, August 13
From 2:00pm to 6:00pm
Free outdoor lawn screening at 7:30pm
The Grove
189 The Grove Drive, Los Angeles, CA 90036
Event Location: The Park
Marley Is Back For More Tail-Wagging Fun
In An All-New Family Adventure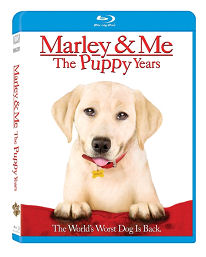 Hear Marley Speak for the First Time in
MARLEY & ME: THE PUPPY YEARS
Arriving On Blu-ray and DVD August 16
Exclusively at Walmart, Sam's Club® and Walmart.com
Los Angeles, CA (July 15, 2011) – One loveable canine goes on a magical new adventure for the entire family in MARLEY & ME: THE PUPPY YEARS, cuddling up on Blu-ray and DVD August 16 from Twentieth Century Fox Home Entertainment. Filmed on location in beautiful Vancouver, British Columbia by acclaimed director Michael Damian (Flicka 2, Moondance Alexander), this touching side story to the original $240 million global box office smash Marley & Me introduces us to Marley as the lovable pint sized pup.
Fall into puppy love with "the world's worst dog," who now has a frisky voice and an attitude to match. Join Marley for his mischievous puppy years, as he and his summer pal, Bodie Grogan, wreak havoc on a neighborhood dog contest. Marley outwits Dobermans, Shepherds and Collies, while stealing hearts in his own unique and lovable way. Get your paws on MARLEY & ME: THE PUPPY YEARS and fetch big laughs for the whole family!
The MARLEY & ME: THE PUPPY YEARS Blu-ray and DVD is packed with bonus material allowing fans to go behind-the-scenes to see all the animal fun on the set.
Available at 4,000 Walmart and Sam's Club locations nationwide and in Canada, both the Blu-ray and DVD are now available for pre-order exclusively at Walmart.com.
MARLEY & ME: THE PUPPY YEARS Special Features:
Marley & Me: The Puppy Years Goes to Training Camp
Part of the Family
My Favorite Moments
About Twentieth Century Fox Home Entertainment LLC
Twentieth Century Fox Home Entertainment, LLC (TCFHE) is a recognized global industry leader and a subsidiary of Twentieth Century Fox Film Corporation, a News Corporation company. Representing 75 years of innovative and award-winning filmmaking from Twentieth Century Fox, TCFHE is the worldwide marketing, sales and distribution company for all Fox film and television programming, acquisitions and original productions on DVD, Blu-ray Disc Digital Copy, Video On Demand and Digital Download. The company also releases all products globally for MGM Home Entertainment. Each year TCFHE introduces hundreds of new and newly enhanced products, which it services to retail outlets from mass merchants and warehouse clubs to specialty stores and e-commerce throughout the world.