A Canine Companion Contest
How would you like a chance to win a 2-Disc Special Edition DVD of Marley & Me? How about a free subscription to the dog magazine of your choice from Subscription.com? What if I told you that the grand prize winner of our first-ever contest here at PETSblog.com will actually win both??

The folks working with Fox Home Entertainment to help promote the release of Marley & Me on DVD are generously giving us two 2-disc sets on DVD. And to further sweeten the pot, the folks at Subscription.com have generously offered a subscription to one of these dog magazines as well!
Entering the My Marley Moment contest…
Our contest is centered around the idea that life with a canine companion is a series of what we'll now lovingly refer to as Marley Moments! To enter, we want to know about the Marley Moments in YOUR life. And we're opening the gates on self-expression to include more than just a newspaper column (which is how John Grogran relayed his own Marley Moments, of course).
Honor One of Your Marley Moments
Write a story, or letter, or newspaper column, or poem, or blog post… Create a video or a photo or a podcast… Anything honoring a special moment (or horrifyingly funny moment) about life with your canine companion (past or present!) that stands out in your memory.
Share Your Marley Moment
Post your story or your video on your dog blog, your personal blog, your website, your profile page. Anywhere you can share your content and link to it! If you don't have anywhere to post your content, you can simply send it to us in an email instead. That way, you don't have to have your own website or blog or a profile account anywhere to participate!
Leave a Comment Here
Once you've posted your Marley Moment or sent it to us in an email, leave a comment here that includes 2 things. (1) The actual name of your 'Marley' and (2) a link to your Marley Moment so that we can all stop by and see it! If you've sent your moment to us in an email, be sure to say so right in the comment so we can verify the entry.
Contest Deadline & Specifics
The contest starts NOW and ends on Friday, April 3rd, 2009 at 11:00 pm (EST).
The winners will be chosen randomly using the green numbers in the upper right corner of each comment. So be SURE you leave a comment. Once the number is chosen, we'll verify that the entry submission is visible online or has been sent to us in an email and, if not, will re-draw until we've successfully selected 2 winners. Read the Official Rules for more details and to ensure you qualify.
What You'll Win…
The grand prize winner (1st selection that is generated and verified) will win a Marley & Me 2-disc DVD and a subscription to their choice of the dog magazines offered by Subscription.com.
The 2nd place winner (2nd selection that is generated and verified) will win a Marley & Me 2-disc DVD.
About the movie…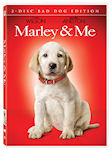 From the director of The Devil Wears Prada and based on the New York Times best-selling novel from John Grogan, Marley & Me leaps onto three-disc Blu-ray, two-disc Special Edition and Single Disc DVD March 31 from Twentieth Century Fox Home Entertainment. Featuring an incredible A-list cast, Oscar®-nominee Owen Wilson (Night at the Museum) and Emmy® winner Jennifer Aniston (The Break-Up) star in a hilarious tail about a family who learns important life lessons from their adorable, but naughty and neurotic dog.
When newlyweds John and Jenny Grogan (Wilson and Aniston) leave the snow of Michigan for the beaches of Miami, they decide to adopt a yellow Labrador retriever named Marley, in order to give them a taste of parenthood. However, things get ruff when the adorable 12-pound puppy transforms into a highly-strung, boisterous and uncontrollable 100-pound steamroller of unbridled energy that always finds trouble. From flunking obedience school, chewing off dry wall, taking a bite out of the sofa, stealing a Thanksgiving turkey and chasing the UPS guy, Marley causes absolute chaos. Despite the mayhem he generates over the years, Marley sees the Grogans through the ups and downs of life and the countless challenges that come with it. The family soon discovers that Marley, "the world's worst dog," somehow brings out the best in them.
The delightful comedy adventure features an ensemble supporting cast including Eric Dane (Grey's Anatomy), Golden Globe®-winner Kathleen Turner (Best Actress, Prizzi's Honor) and Oscar®-winner Alan Arkin (Best Supporting Actor, Little Miss Sunshine).
About Twentieth Century Fox Home Entertainment
A recognized global industry leader, Twentieth Century Fox Home Entertainment LLC (TCFHE) is the worldwide marketing, sales and distribution company for all Fox film and television programming on VHS, DVD and Blu-ray Disc (BD) as well as acquisitions and original productions. The company also releases all products around the globe for MGM Home Entertainment. Each year TCFHE introduces hundreds of new and newly enhanced products, which it services to retail outlets — from mass merchants and warehouse clubs to specialty stores and e-commerce – throughout the world. Twentieth Century Fox Home Entertainment LLC is a subsidiary of Twentieth Century Fox Film Corporation, a News Corporation company.
About Digital Copy
Twentieth Century Fox Home Entertainment continues its industry leadership with the inclusion of Digital Copy on select Special Edition DVD and Blu-ray releases. Providing consumers with convenience, choice and portability in how they experience filmed entertainment, Digital Copy allows for quick and easy transfer of a digital movie file directly from disc to desktop to portable device. Digital Copy is currently available for PC and Mac computers and compatible with Apple iPod, iPhone and Windows Media based portable video players.
About Subscription.com
Subscribe to Services, Magazines, Newspapers & More… Find, compare and subscribe to hundreds of services, magazines and newspapers. Browse thousands of subscriptions and read articles and reviews. Then pick the best subscription for you – all at Subscription.com.