Valentines Day is right around the corner. True love in our world involves our beloved pets. We go out and purchase a new Valentine toy and maybe prepare a special treat. All to let them know it is their special day. Here is a chance for you to write your love story and tell the world just how much you love your companion.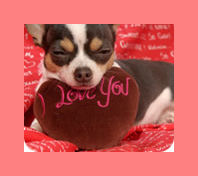 ASPCA is thrilled to announce the launch of the 2011 "My Furry Valentine" Photo Contest in honor of all of your puppy (kitty, fish, bird) loves. In 100 words or less share your love story about the first time you laid eyes on each other, or how they are and always will be the love of your life, or how they melt your heart. Send the story along with your best photo of that special furry, finned or feathered someone—the one who opens your heart not just on February 14, but every single day of the year.
The top five winners—selected by ASPCA staff members—will receive an ASPCA Prize Pack, and winning photos will be featured on their blog. But hurry—the deadline for submissions is midnight EST on February 12, 2011.
Rules:
* No purchase necessary
* Must be 18 or older to enter. This contest is void where prohibited and is limited to legal U. S. residents; ASPCA
employees and their families are not eligible to enter.
* Entries are subject to the ASPCA's
privacy policy.
* Submission deadline is midnight Eastern Time on February 12, 2011.
* Five winners will be chosen by a panel of ASPCA judges based on the aesthetic quality of their photo submission and
how compellingly their story is. All judgments are in the sole discretion of the ASPCA.
* Your entry must include your name, mailing address, daytime telephone number, a valid email address, animal name,
1 jpg photo file. Incomplete entries will not be considered. Entries become the property of the ASPCA and will not be
returned.
* Photo submissions should include only images of you and pets owned by you.
* By submitting your text/photo in this contest, you give the ASPCA an irrevocable, perpetual royalty-free right to use
your name/text/photo for any purposes to promote the ASPCA's mission of providing effective means for the
prevention of cruelty to animals throughout the United States.
* By entering this contest, you are confirming that you are at least 18 years of age, the sole owner of the photograph
submitted, and author of the text contained in your entry.
Good luck to everyone!