Fundraiser on Thursday, October 22, 2009 at PACHA New York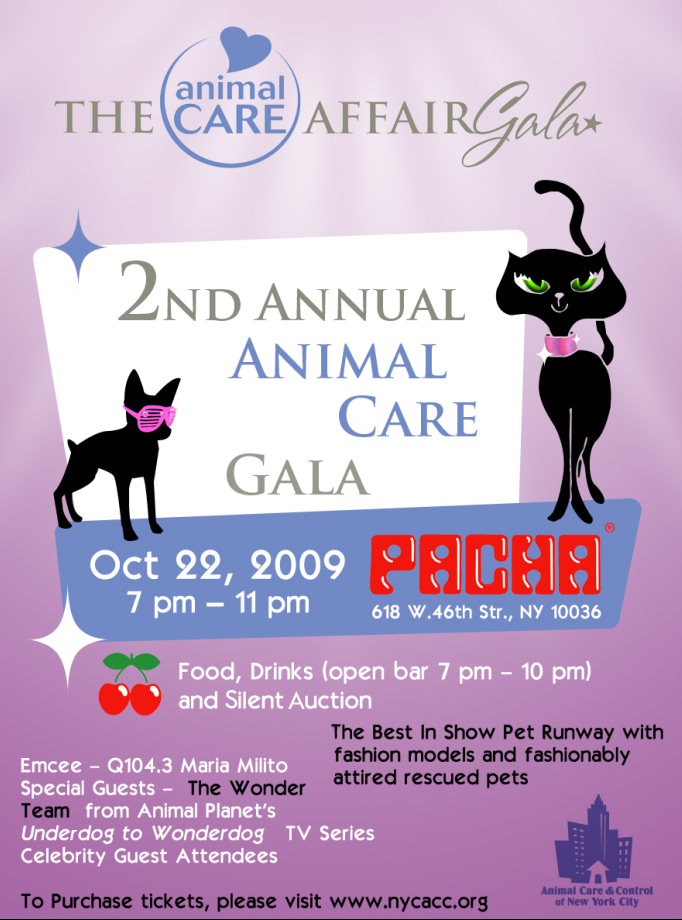 New York – October 7, 2009 – Animal Care & Control of New York City is pleased to announce their second annual fundraising gala, which will be co-hosted by the popular cable network Animal Planet. The event is to be held at Pacha on Thursday, October 22, 2009, and all funds raised will benefit the city's broad rescue, shelter and adoption services. Since 1995, Animal Care has, on average, assisted in the rescue of 43,000 animals annually as the largest agency of its kind in the North East, servicing all five boroughs of New York City.

This year's event will feature numerous special guests and fun activities. Opening remarks will be made by popular Today Show special correspondent, author and pet lover Jill Rappaport. The cast from Animal Planet's series "Underdog to Wonderdog" will also be on hand for the festivities as well as radio personality Maria Milito from New York's Q1043.
The evening's main events include a canine fashion show and charity auction. Accessorized with professional models, watch a variety of happily-adopted animals strutting their stuff as they compete for the "best in show" on the runway. Also that evening, attendees can bid on exclusive pet prizes such as a custom-designed dog house, created by Animal Planet's canine carpenter David Leon.
The spacious Pacha club on West 46th Street at Twelfth Avenue along the Hudson River will allow for larger attendance and entertainment. Last year, AC&C hosted over 200 guests and raised $85,000 for the Animal Care cause. Past notable New Yorkers and celebrities, who have supported the Animal Care mission, include Glenn Close, Natalie Portman, Alec Baldwin and this year's keynote speaker Jill Rappaport.
According to Richard Gentles, the Director of Administrative Services and Development, "We are pleased to host as many guests as we are able to participate at this year's benefit, both to celebrate our success but also to raise awareness in the community about the need for ongoing support of our furry mammal – and reptilian – friends that rely so much on the generosity of New Yorkers."
This year's fundraiser event is being coordinated via Choice Productions along with organic catering.
AC&C takes in all homeless pets, including the over 120 new animals on the streets every day. The animals are given shelter, vaccinated, medically evaluated, housed, and fed until they are reunited with their owners or adopted into loving homes. And not just dogs and cats: goats, cows, and even tortoises have been rescued by Animal Care. AC&C has implemented numerous programs to ensure that as many animals as possible are placed into supportive environments, and adoptions are at an all time high and the euthanasia rate is at the lowest level in New York City history. To learn more about ongoing Animal Care adoption campaigns please visit www.nycacc.org.
Animal Planet Media (APM), a multi-media business unit of Discovery Communications, is the world's only entertainment brand that immerses viewers in the full range of life in the animal kingdom with rich, deep content via multiple platforms and offers animal lovers and pet owners access to a centralized online, television and mobile community for immersive, engaging, high-quality entertainment, information and enrichment. APM consists of the Animal Planet television network, available in more than 96 million homes in the US; online assets www.animalplanet.com, the ultimate online destination for all things animal; the 24/7 broadband channel, Animal Planet Beyond; Petfinder.com, the #1 pet-related Web property globally that facilitates pet adoption; PetsIncredible, a major producer and distributor of pet-training videos and includes web service PetVideo.com; and other media platforms including a robust Video-on-Demand (VOD) service; mobile content; and merchandising extensions.