Company's commitment to America's pet community continues
GRAND RAPIDS, Mich., May 17, 2010 ? BISSELL Homecare, Inc. today announced the winners of its third annual Most Valuable Pet (MVP) Contest. Gracey, a mixed domestic short-hair feline, triumphed over nearly 50,000 entrants to claim the title of 2010 MVP Grand Prize Winner. This year's runners-up prizes were awarded to Chocolate Long Hair Dapple Dachshund, Rainbow Diamond; Marbled Bengal feline, Bianca; Scooter, an Old English Sheepdog; and Bear, a Huskie mix. Jamie, a Basset Hound, was also honored with an additional prize.
From January through March, pet owners submitted photos of their four-legged friends and campaigned for the title of Most Valuable Pet for the chance to be featured on BISSELL pet product packaging. The grand prize winner will also receive $10,000 for the pet cause of their choice, plus a $500 "Perfect For You And Your Pet" shopping spree. Runners up will be awarded an additional $8,000 to benefit their pets' favorite causes.
"Our furry friends are the inspiration behind our products and we enjoy capturing and showcasing the passion and love for America's pets through the MVP contest," says Jim Krzeminski, BISSELL's executive vice president and chief customer officer. "As pet owners ourselves, we are aware of the numerous pet programs and charities that exist, their wonderful work and the help they need to continue their meaningful efforts. The MVP contest always brings out the passion pet lovers have for their favorite charities, and we are honored to reward their dedication."
That's why BISSELL is once again honoring the value of pets by awarding an additional prize to one of the semifinalists. In 2008, BISSELL recognized the outstanding campaigns of dogs Bailey and Dash with donations to their favorite charities. And when BISSELL learned that additional funding was needed to help the recipients of the 2009 Grand Prize obtain an assistance dog, the winners were surprised with the full amount needed.
The entrants in the 2010 Most Valuable Pet Contest overwhelmed the judges with stories of pets who have conquered illnesses and injuries, capturing the hearts of their communities. In recognition of these pets, BISSELL is awarding Jamie – the first place winner in week 11 – with an Honorable Mention, and a $1,000 donation to the charity of her choice.
Grand Prize: Gracey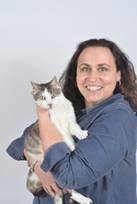 Grand prize winner, Gracey, from New Lexington, Ohio was not yet weaned when she was abandoned as a kitten at a local dog pound and suffers from allergies and digestive issues that require special food. With the love and care of her pet parents, Joanne McGonagle and Paul Dusenberry, she has blossomed into a beautiful and playful feline who enjoys throwing dirt out of a fig tree planter. Gracey is the inspiration behind the children's book The Tiniest Tiger and the Conservation Cub Club, a feline education and support community.
Joanne plans to donate the $10,000 grand prize to PurrEver Ranch Sanctuary, a non-profit hospice for senior and special needs cats living with disease or behavior issues. It is one of a very few feline-specific hospices. Gracey and Joanne once shared their home with Hazel, a 19-year old domestic short-hair feline. Caring for Hazel during her final senior years and managing Gracey's health challenges helped Joanne understand and appreciate PurrEver Ranch's commitment to supporting cats with special needs. The Somerville Tennessee Ranch, which was founded by Rita Wood, will use the money to secure permanent housing for and continue to care for cats. Gracey will be featured on the Pet Hair Eraser Corded Hand Vacuum.
Second Place: Rainbow Diamond
Rainbow Diamond, a Chocolate Long Hair Dapple Dachshund and the second prize winner from San Antonio, Texas was rescued from a breeding mill. At the time, Holly and Sean Hirshberg took her in as a foster pet but soon fell in love with her and made her a permanent member of their family. Rainbow Diamond loves to tear up paper and has a goofy sense of humor. She shares her home with several other dogs from Diamond Dachshund Rescue of Texas, the non-profit organization that rescued her and the recipient of her $5,000 prize. Rainbow Diamond will star on the packaging for the SpotBot Pet.
Third Place: Bianca
Bianca is a Marbled Bengal cat, a descendant of a cross between an Asian Leopard Cat and a domestic cat. She lives in Dennis Port, Mass. with her brother, a brown spotted Bengal, and two additional felines. She loves to stand on her owner's lap, dancing and purring, or zoom around the house, chasing her brother, Bela. Bianca's pet parent, Marcia Martin, works closely with the Bengal Rescue Network's foster caregivers. She will be donating the $1,000 prize money to this non-profit group, which is dedicated to the health, welfare and happiness of the Bengal breed. Look for Bianca on the SpotBot Pet.
Fourth Place: Scooter
Always enthusiastic and ready to go, Scooter, an Old English Sheepdog, lives in Daytona Beach, Fla. He lives with his older brother, Nikki, and a cat named Bitsy. Scooter's parents, Dan Rubin and Linda Allen, made the trip to Knoxville, Tenn. to rescue him and brought him home on Thanksgiving Day, the day they celebrate his birthday. Scooter's $1,000 prize will be donated to Concerned Citizens for Animal Welfare, a non-profit corporation dedicated to reducing animal overpopulation. Scooter will be starring on the Powergroom Pet vacuum.
Fifth Place: Bear
Bear, a Huskie mix from Carol Stream, Ill, loves to sleep on the couch and chew on squeaky toys. He shares his home with Zeus, a black Lab Greyhound mix, and Crash, a Great Pyrenees mix. Bear's pet parent, Christopher Kane, will donate the $1,000 prize money to Friends of DuPage County Animal Care & Control, the shelter from which Bear was adopted. Bear will be featured on the Pet Hair Eraser vacuum.
Honorable Mention: Jamie
A Basset Hound with a sweet disposition, Jamie, from Las Vegas loves to eat homemade dog biscuits. Eight-year old Jamie, who lost her sight due to glaucoma, lives with her Basset siblings, a Golden Retriever and her pet parents, Mary Calabray and Wayne Roewer. Jamie's $1,000 prize money will be donated to Las Vegas Basset Rescue, the non-profit organization from which she was adopted.
BISSELL supports the pet community through partnerships with pet adoption organizations like Petfinder, the Kent County Humane Society, LostPetUSA.net and North Shore Animal League America (NSALA), and by sponsoring such events as Furry Scurry, BlockTail Party? and NSALA's Adoptathon. The company is committed to providing pet owners with effective, easy-to-use pet clean-up products. For information on the complete line up of BISSELL pet products, cleaning tips and more, visit the online Pet Lovers Community at www.bissell.com/pets.
About BISSELL Homecare, Inc.
A 134-year-old company, Grand Rapids-based BISSELL Homecare, Inc., is the top-selling brand in floor care appliances in North America with an expanding presence worldwide. As an innovator of cleaning products, BISSELL produces and sells vacuums, sweepers, deep-cleaning machines, bare floor cleaners and cleaning formulas at retail locations across the globe. The company is in its fourth generation of family leadership.
Watch Gracey's Photo Shoot: