Lisa Stewart is an artist. Her simple and elegant lines create sophisticated illustrations on stationery as well as extraordinary linens and other home furnishings, decor, and even accessories these days. If you've never happened across the ECStewart Collections or  CalligaphyPets Collections in a gift shop near you, you're missing out.

I find some of her work is extremely beautiful…
For example, one of my favorite pen & inks is this cat at play. I'm posting it here linked to her proper shopping page because this tiny little image does not do it justice (nor should it)! You can order an original limited edition or a print (and elect to have them sent either framed or unframed).
So why am I including her in a blog about Pet's Blogs you ask?
Well, she also pens one of the finer pets blogs out there on the Internet. It's easy to recognize the inspiration for her fine feline finesse with pen and ink when you take a peek at her 3WiseCats blog…

3WiseCats is more than a blog, it's a site devoted really to both animal rescue and the art she's created. There's also a studio blog, but the blog I'm featuring is, of course, the blog surrounding the 3WiseCats (& Company).
3WiseCats is nothing new – the blog has been around since January of 2006, born out of a five-year-old Christmas card antic Lisa managed to persuade Andrew to agree to. Here's how Lisa describes it, looking back on the origination of the 3WiseCats back in 2001:
Later in the year, we decided to make joint holiday cards. After a few minutes of brainstorming, we came up with actually dressing up the pussies. What would be the theme? We thought of everything (Santa & his elves, etc) but the fact that there were three (3) of them: Eros, Bacchus, & Cheshire, it made sense to keep in theme of the 3 Wise Men.

Hence, the 3WiseCats was born.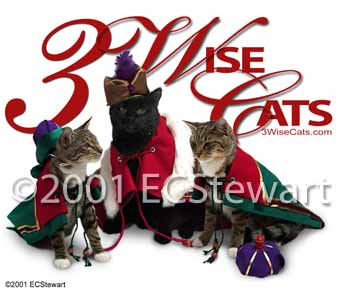 Looking at the blog logo and this photo included in that January 2005 post, it must have been some Christmas card.
And it seems they didn't stop there. Holiday 2002 unveiled the Eros, Cheshire, & the Baby Bacchus nativity scene. They've since adopted 2 more cats – Pip & Chardonnay – and so became 3WiseCats & Company.
If you visit the blog, don't expect it to be updated on a consistently regular schedule. Seriously, how in the world would Lisa and Andrew ever find the time with everything else they do? It's amazing to think they manage photos and scribbles (even though they haven't yet purchased that belt-camera).
You can, however, count on the3WiseCats blog being a consistently great read. I've read most of the blog in two or three sittings and check back periodically to see if there's anything new.
You can also expect a good sense of humor, wonderful photos, and a casual and entertaining writing style. Some of my favorite blog posts include Bacchus: You Had Me at Meow and the most recent Urban Cat Walk.
Oh, and if you're not particularly into cat art, check out Lisa's Petpourrie Collection which features her same simple, strong and elegant lines to create a designer original bunny, canary, ferret, goldfish, hamster, horse, snake and turtle.