Release of special edition Shepard Fairey ADOPT print will mark historic significance of the presidential dog adoption and help continue to raise awareness for pet adoption nationwide
LOS ANGELES – APRIL 10, 2009 – Adopt-a-Pet.com, North America's largest non-profit pet adoption website, and Artist Shepard Fairey have hope and faith in the Obamas' commitment to adopting a dog — so much so, that they have already created a special-edition ADOPT print to be released immediately after the adoption becomes official.

The only thing needed for Fairey to finalize the image is the presidential pooch adoption date, which will go on the dog's tag, making the print a distinctive piece of pet adoption history.
"The day the Obamas adopt their new family member will no doubt be a historic moment for shelter animals everywhere," said Adopt-a-Pet.com Spokesperson Dr. Pia Salk, who initiated the collaboration with Fairey. "It is monumental that the leader of our country will be setting an example by saving the life of a dog in need. This will send a strong message to today's youth about the power that lies in our choices and the importance of giving back to those less fortunate.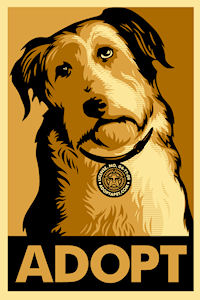 Their adoption will be a symbol of hope for not only shelter animals but for the country overall."
In the same way the original Fairey ADOPT image was based on the red, white and blue Hope poster, this new edition is modeled after the Obama inauguration 'history' sticker that was released in regal shades of black and gold. The print will enable animal lovers to show their support and give back to the plight of shelter animals.
"Animal lovers of all political affiliations can join together and celebrate the historic date that the Obamas bring home the first adopted dog ever to inhabit the White House," said Adopt-a-Pet.com Executive Director Abbie Moore. "This is truly a non-partisan issue, and we hope to see all Americans follow the Obamas' wonderful example. The importance of this action simply cannot be overstated."
For information on the print and to search for adoptable pets, go to http://www.adoptapet.com.


Adopt-a-Pet.com (formerly 1-800-Save-A-Pet.com) is North America's largest non-profit pet adoption website, helping over 7,000 animal shelters, humane societies, SPCAs, pet rescue groups, and pet adoption agencies advertise their homeless pets to adopters for free. Adopt-a-Pet.com displays photos and descriptions of adoptable pets to over 1.5 million people seeking to adopt a pet each month, and is funded by the passionate pet lovers at Purina and North Shore Animal League America. Aside from being able to adopt a dog or adopt a cat, Adopt-a-Pet.com visitors may now also adopt a rabbit, horse, bird, reptile, amphibian, fish, farm-type animals and other small pets.