Tom over at InventionHome.com sent me a quick email to let me know about Barbara McNew's new invention – the critter litter box. Evidently Barbara doesn't like emptying her litter box. Does anyone?
Her invention solves the tedious job of litter box duty (pun intended) by making the entire litter box disposable. Hmmm. Interesting indeed.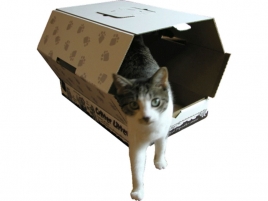 My first thought was to shun the idea of yet another disposable product in this seemingly disposable-filled world of throw-away things. But then I read more about her invention and started to warm up to the idea…
Her collapsible kitty litter box is 100% biodegradable and I suppose that's better than using a plastic bag to line the plastic litter box which is cleaned out with chemical cleaners every week. If I were stuck using a litter box I have to admit, I'd give this critter litter a test run.
I actually don't have any cats at the moment – and the cats I've had in the past have all been trained to consider the great outdoors their litter box. It doesn't work well if you have small children who frequent a sand-box, but otherwise it works. It's one of the many conveniences of rural living with plenty of room to roam.
If you have cats and traditional litter boxes, you might want to keep an eye out for Barbara's new invention. And if you have an invention of your own, see Tom over at InventionHome.com.
12.22.08 – Invention of the Week: Critter Litter
Got an Idea of Your Own?
If you have a great idea for a new pet product and would like help from square one, visit InventionHome to get the ball rolling. And if you're an inventor with a finished product that's ready to sell, try MatchProduct.com.