Black & Decker FLEX vs Pet Hair And More is probably what we should have called this article, but that just sounded too darned awkward. We were given the chance to give this little hand-held vacuum a test to see if it really did a good job of sucking up pet hair but we ended up sucking up way more than pet hair.

Not too long ago, I tossed a Black & Decker Dust Buster into my cart at the get-it-all-in-one-place giant Mart because it was relatively inexpensive and I needed one. Moms who have recently suffered a few minor spills, dragging out the vacuum cleaner to suck up unsweepable things like potting soil or baby powder, tend to impulse buy the next time they're out shopping.
Unfortunately, I hated the little black Black & Decker Dust Buster and should have left it at the store. The little hand-held has a nice case for storing it away and does manage to suck up cheerios and potting soil, but that's just about all it's good for.
Enter the Black & Decker FLEX. This time I wasn't looking for one at all. I'd actually fallen back in love with my big vacuum and had decided to run away from hand-held mini versions altogether. But I guess since I write a lot about pets the folks at Black & Decker figured I must have a lot of pet hair at my house. No argument there. They asked me if I'd like to give the FLEX a test drive and write about it. Well, no argument there, either!
So, here we go . . .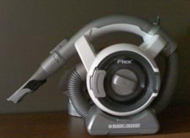 I unpacked the FLEX, the front of which looks very much like a tiny washing machine, and the three tools that came with it. It's officially called the FLEX Cordless Mini Canister Vac. And here's a picture of the exact product we received and are reviewing here!
I plugged it in so that it would be charged and ready. On Thanksgiving Day morning, I gave it a spin on the couch using the rubbery round pet hair attachment. It really did a nice job of picking up the bits of pet hair that where there, but it didn't really amount to very much. My little dogs really don't shed very much. That's a good thing. On both counts.
On Friday I decided I needed more pet hair to do a better test. I went and gathered some horse hair from the curry comb and then let my big dogs in the house for some play time. No, I didn't spread horse hair all over my couch. I'm not insane. I used an old pillow and an old flannel pillow case to simulate a piece of furniture. Then I got out the FLEX to see what it could do on short black pet hair and some horse hair. I used the same rubbery round attachment and was quite amazed at how it picked it off the flannel sheet. So I took the pet hair attachment off and then used it to suck the curry comb clean.
Yesterday we were unpacking the rest of the Christmas decorations and getting ready to hang the lights and garland outside, making a real mess on the floor inside in the process. Garland sheds and we ended up shattering a few of the tiny glass lightbulbs we were trying to replace. Rather than get the full-sized vacuum we decided to grab the FLEX instead. It did a great job sucking up broken bulb glass, lots of artificial pine needles, a broken ornament, and glitter (that came from the inside of the broken ornament). I'd argue glitter is far worse than pet hair!
What I like:
It actually does have great suction.
It's attractive and compact.
It's super easy to get out and put away. No bag full of peripherals.
The attachments are easily placed and accessible when not in use.
The hose even has it's place when it's stored. It's got a LONG hose.
You can swivel and lock any attachment in the exact position you want.
The filter is dishwasher safe. 'Nuff said.
It's cordless, which is convenient. I kept it plugged in to charge for about a day before I ever used it. It's small and sits nicely on the floor or counter so it's not an eyesore to charge.
What I don't like:
Emptying it is awkward, or can be. We did get the hang of it, and it's no harder to empty than any other bagless vacuum cleaner. Depending on what you've sucked up, it can be messy to empty.
It has to be emptied pretty often, more than once during a bigger job.
It's cordless. I know, that's also on my like list above. I tend to shy away from cordless things because it seems that I'm always running out of juice at the most critical moment.
Overall
I charged the FLEX for about a day and have used it five times so far on its current charge. Nothing I did took longer than two minutes at a time. I haven't recharged it. Just now I flipped the brush down on the main attachment and sucked the dust out of my keyboard just to see if it still sounded strong. It does. But I suspect if I left it running it would start to give out. That's fine for short jobs, like cleaning my keyboard, but it's not so good for a longer job like cleaning my ceiling fans or my stairs. I'd rather have the option to go cordless for light, quick jobs and corded for heavy, longer jobs.
Overall, I think it's a great little tool to add to my arsenal! And I can definitely recommend it for getting pet hair off furniture, or flannel covered pillows, and for handling broken Christmas lights and glitter.
Want one?
Black & Decker sent along a nice little summary of the vac and an exclusive coupon code for us to offer here at PETSblogs. Here you go:
Visit www.buyflexvac.com/flexteam
Coupon Code: FLX140
(gets you free Power Brush AND Power Scrubber attachments)
With a 4-foot hose, great accessories and 40% more suction power than a 12v Dustbuster®, the FLEX has the power and flexibility of a full-size vac, with the convenience and portability of a lightweight hand-held.
– Black & Decker FLEX promo materials
Disclaimer: As stated in the article, Black & Decker, Towson, Maryland, sent us a free FLEX vac to test for ourselves. In return for writing about it, we get to keep the test model and are happy to do so.