I know what you're thinking, "that doesn't even make sense!" No, our spellchecker isn't broken, we're just reviewing a pets blog whose sole focus is devoted to photos of cats brought to life through the zany captions that represent what that cat might be thinking, or saying, at that precise moment in time captured in the pic.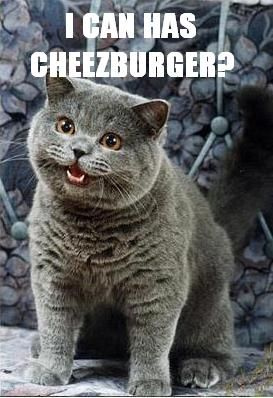 It all started with a simple grey cat with a goofy smile asking, in broken English, if he may enjoy a cheeseburger. From there, the blog, and the concept, exploded in popularity. The silly vernacular has infiltrated the Internet and our own American lexicon.
Who knew captioned photos of felines (aka LOLCats) would take the world by storm?
The phenomenon leaves me scratching my head and wondering . . . "Why didn't I think of that?!"
If the anguished English frustrates you, as it sometimes does the editor in me, and you need immediate help with the lingo, be sure to check out The Definitive Lolcats glossary to learn or look up Lolspeak — teh furst language born of teh intertubes.
The Blog Empire is Born
The original picture itself didn't come from the site's creators, but rather served as a catalyst for them to start this wildly popular site. A quick look at Wikipedia tells us the site launched in January of 2007 after two bloggers in Hawaii merged their efforts and one of them added the infamous caption to the grey cat's picture. Within a couple months, the two bloggers sold their burgeoning blog to Ben Huh, journalist turned Internet Content Connoisseur.
For a nice article on the background of I Can Has Cheezburger, Ben Huh, and his company, Pet Holdings, Inc., we recommend Farhad Majoo's article,
I Can Has Internet Millions: The company behind lolcats and Failblog tries to turn memes into money on Slate.com.
Investors would go on to invest $2 million in I Can Has Cheezburger and, since those early days, the site has not only grown to receive about 1.5 million hits a day, it has also spilled over into several sister sites and side projects. The same idea hovers behind all of the Lolz sites – to generate pictures (or even graphs) with funny captions that other site visitors can rate on a scale of 1-5.
The Point of LOLcats & ICHC
LOLcats, any funny photos of felines, are just plain entertaining. Sometimes they're scary and sometimes they're funny and sometimes they just plain hit the nail on the proverbial head with a caption that is just so creative it's hard not to appreciate it as a work of art. And that's definitely the point of visiting ICHC (I Can Has Cheezburger) – to be entertained. But it's also about a community of cat-lovers, make that animal lovers, who adore their pets and are eager to view and rate photo/caption combinations.
To give it a whirl, try clicking "Random" from the top navigation and then rating what you see. You just hover over the number of cheeseburgers to voice your opinion. You don't have to sign up or log in or tell them the names of all your pets . . . just hover your mouse and click. You can also re-caption a pic without logging in, though you will need to provide a name and email address when you submit it. Fair Warning: Clicking on the [Random] link can easily lead to a real lapse in the time/space continuum.
Signing up and logging in does have its advantages. We gave it a whirl to check it out, so if you're a Cheezpeep, how 'bout finding us and friending us there! (http://cheezburger.com/PETSblogs/).
Once you register and log in you can create and collect Lolz. You can also cast votes, which is different from just rating the Lolz. Navigate to the Vote page in the top navigation and you'll be shown a Lol with four choices on the right. You can skip it, give it a thumb's up Win, give it a thumb's down Fail, or note it as an EPIC WIN (which votes win and adds it to your favorites). The most popular pictures, by votes, will make it to the homepage of the blog. Creating an account also lets you automatically post to Twitter when you create a Lol or save a fave. And ICHC makes it easy to share Lolz in every other way, too. You can even embed one. Here's one of our faves . . .
funny pictures
Widgets & The Creative Tool
If you find that you need your cheezburger fix fast and just don't have time to go to the site and let it load the old-fashioned way, you can download their cool widgets. Get faster access to their newest pictures and rate them right from your desktop or your browser's toolbar. You can even get Cheezburgers on your mobile phone.
If you come to the site to add your own LOLCat, their site contains a tool, aptly named the LOL Builder, which allows you to upload your photo or video to the site and add the caption of your choice. They offer various levels of fanciness for your pictures; you can keep it simple, using their basic, three-tiered caption, or you can try a fancier poster style, which resembles the motivational posters found in many workplaces. They also offer the breaking news style, which appears as a TV news story. If you don't have a picture or video of your own to add, you can choose from some of the uploaded pictures on the site that have not yet been captioned.
You can also use the LOLbuilder to create your own picture without sharing it on the blog. Personalize all those adorable and hilarious pictures you have floating around to fit situations and people in your own life. Private photos make for great greeting cards, desktop backgrounds, or even just fun e-mails.
Here's how ICHC describes itself:
I Can Has Cheezburger?® is a site that gathers, organizes, tags, and captions the funniest and entertaining pictures of user-generated lolcats and lol* (other animals) from the Internet. All of our lolcats and lol*whatevers are made by you, our users.
As of today, the site boasts 1,793,038 users and 6,703,913 Lolz. Wow. That's a lotta laffs.
The LOLbooks
I Can Has Cheezburger?: A LOLcat Colleckshun
I Can Has Cheezburger? A LOLcat Colleckshunby Professor Happycat
October 2008 (spent 13 weeks on The New York Times best-seller list that winter)
Their first coffee-table picture book was a huge success, spending 13 weeks on The New York Times best-seller list that winter. The book features 200 of the site's founders' favorite LOLcats for page by page fun. When this book was released, it was touted that the pictures were taken directly from the site archives of nearly one million.
How to Take over Teh Wurld: A LOLcat Guide 2 Winning
How to Take over Teh Wurld: A LOLcat Guide 2 Winningby Professor Happycat & Staff
September 2009
Professor Happycat was back in the following year, the fall of 2009, with 200 more, all-new LOLcats in a guide that gives all aspiring kittehs the lessons they need to take over teh wurld (or at least their hoomins). This book credits the community members responsible for the captions at the end of the book, which is cool. In their quest for world domination they must Bewar of Menni Danjurs!.
LOLcat Bible: In teh beginnin Ceiling Cat maded teh skiez An da Urfs n stuffs
LOLcat Bible: In teh beginnin Ceiling Cat maded teh skiez And da Urfs n stuffsby Martin Grondin
February 2010
LOLcats have taken over the Internet — revealing their hip and humorous cat language for all to enjoy. Now, in this first ever feline gospel, they retell 50 popular Bible stories in LOLspeak, so cool cats everywhere can rediscover the adventures of Adam and Eve, Noah and the ark, Jonah and the whale, Abraham and Isaac, Samson and Delilah, and many more. Presenting the most entertaining material from the mega-hit website LOLcatBible.com, including 45 color photos, this book delivers amusing revelations that Ceiling Cat has sent down from his Heavenly Home in the, well, ceiling. Fans of LOLcats will delight in the twisted and imaginative ways cats can spin a biblical yarn.
I Has a Hotdog: What Your Dog Is Really Thinking
by Professor Happycat
April 20, 2010
Dog-lovers rejoice! The geniuses behind I Can Has Cheezburger have heard your barks and answered your prayers. The latest book from the Cheezburger empire is backed by the successful blog IHasAHotDog.com, featuring the same funny pictures and lol-worthy captions as ICanHasCheezburger, except with dogs. Professor Happycat devoted himself to the rigorous study of the canine species and compiled his report. In more than 200 images, some never posted online, readers will discover just how the dog's brain works.
Itteh Bitteh Book of Kittehs
This book isn't even available until October 5, 2010 and there's no cover image or synopsis on Barnes & Noble . . . but they're already taking Pre-Orders.
October 30, 2010 Update:
by Professor Happycat
October 2010
The focus of this 3rd book in the popular LOLcat series is on the cutest cat of all: tiny, heartwarming, adorable kittens. The result is page after page of uber-cuteness that will charm anyone who loves kitties (and those who just love to laugh at these frisky bundles of fur).
LOLMart
While you're there, be sure to check out their store, LOLMart, for some fun novelty gifts. You can be the proud owner of a plush version of the original LOLCat and LOLDog, or purchase a book full of fan favorite LOLpets. For the poets in your family, they offer a set of magnetic words with LOLspeak, or a replica of the very cheezburger that launched a thousand LOLs. Of course, there's always the option of getting tee-shirts, some of which are special edition and only available for a few days before they're gone forever.
Not all the sites are pet-related, but there's a LOLDogs called I Has A Hotdog. If after visiting I Can Has Cheezburger and I Has A Hotdog, you still crave more and want to see a wider variety of animals, be sure to check out More Lolz, the entire Cheezburger Network of sites.
One of the sites you might find yourself gushing over is Acting Like Animals. These typically don't have the extensive captions that Cheezburger does . . . many don't have a caption at all. This site largely contains animals interacting with nature or other animals, resulting in extreme hilarity or cuteness, and mostly deal with animal fails. On the off chance that your cuteness quota hasn't been met after all this, you can look under the CUTE heading to find a few more sites in the same vein. Babysaur displays various pictures of adorable items for children and babies, many of which are animal-related. And Daily Squee is along the same lines as Acting Like Animals, with clever taglines and replies above the pictures sure to make you chuckle.
Anyone who likes animals and taking a breather from being productive should stop by I Can Has Cheezburger?. Cat owners, in particular, can't help but smile at some of the horribly misspelled and grammatically incorrect captions depicting the thoughts behind the feline pose. Even if you're not there to coo over the adorable pet pictures, I defy you not to start speaking the language of the LOLCats. We promise you will has a gud tiem dere!
And don't forget to find and friend us so we can check out your Lolz. Feel free to leave your profile link in the comments so other PETSblogs readers can find you there, too.