Mark your calendars for the Charlotte Pet Expo!
May 8, 2010, from 10am to 6pm
On May 8th, the 2010 Charlotte Pet Expo will be held at Cabarrus Arena and Events Center at 4751 NC Highway 49 in Concord, NC. Admission, and parking, is free to the public!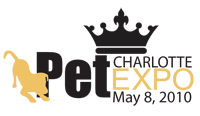 The Charlotte Pet Expo is the pet lover's premier event! Bringing all the foremost trainers, groomers, rescues, shelters, vets, clinics, pet stores, retailers, hobbyist groups, and societies together. Their goal is to assemble all key areas of the pet companion world to educate, demonstrate, and perform for the Charlotte pet lover community and beyond.
Educational demonstrations, special guests, agility trials, adoptions and a pet fashion show are just a few of the events on the day's agenda. Check out the Stage Schedule and the exhibitor list. There is something for everyone, it's truly an experience for the whole family. You might even meet a new 4-legged family member!
In an effort to help raise awareness of the struggles that rescue groups and shelters face every day, B2C Marketing and Technology Solutions is hosting a series of nationwide pet expos and they are really psyched to bring the show to Charlotte. There are no breeders or puppy mills allowed, and they're expecting 8,000 to 10,000 folks to attend (along with their furry friends, of course).
The goal of the 2010 Charlotte Pet Expo is to raise awareness of not only local rescues and shelters, but also the wonderful resources and service providers in the Charlotte area. Their message for the overall event is simply to encourage responsible pet ownership.
If you don't live near enough to the Charlotte area, take heart. You can look for a Pet Expo near you!
Phoenix Pet Expo – June 12, 2010
San Antonio Pet Expo – July 31, 2010
Memphis Pet Expo – September 18, 2010
Colorado Springs Pet Expo – September 25, 2010
San Jose Pet Expo – October 2, 2010
Saint Louis Pet Expo – October 30, 2010
For more information, you can call Veronica at 314-481-8100 (ext.107).