A group of graduate students at DePaul University in Chicago are working on a project to spread the word of the efforts The Chicago English Bulldog Rescue is using to bring awareness to pet adoption. They are implementing various media to accomplish this goal and we were delighted when contacted to participate in the project. After reading the press release and looking at the before and after pictures, help us spread the word about Cranberry's rescue and a new chance at life!
Please read the following press release and see if it touches your heart like it did ours.
Chicago English Bulldog Rescue Helps Puppy Walk for First Time
CHICAGO, Feb. 26, 2011—The Chicago English Bulldog Rescue (CEBR), the only 501c3 English Bulldog rescue in Illinois, may have taken on its biggest project yet—helping one of its foster pups, Cranberry, get the opportunity to walk for the first time.
On Dec. 5, 2010, a 15-week-old bully pup now known as Cranberry embarked on a journey most dogs will never experience. Cranberry suffered from a congenital defect, which has caused severe deformity to her front legs, requiring special orthopedic care. As a result, over the past few months, many have banded together—pilots, surgeons, specialists and other volunteers—to ensure that this puppy with special needs receives the surgery and aftercare she requires.
"Bulldogs just grab your heart and pull you in, especially Cranberry," said Molly Marino, executive director and founder of CEBR. "Despite the hurdles, she has had to overcome at an early age, she has a thriving spirit. Her zest for life in her pint-sized body has spurred thousands of people to support her on Facebook and has mobilized not only our rescue network, but volunteers from other organizations that want to see her walk someday. She truly has a cult-like fan following."
From private pilots flying Cranberry into Chicago to start her journey with CEBR to the veterinary surgeons at Iowa State University College of Veterinary Medicine who reconstructed her legs, and even the volunteers who donated $5,000 to CEBR toward Cranberry's medical fund, people across the country are determined to make sure that Cranberry's quality of life is improved completely.
Currently, Cranberry is getting therapy five days a week. She received four sessions a day at home, which includes electro-stimulation therapy that requires her to be hooked up to electrodes that send a healing current through the damaged parts of her body. She then gets range of motion and stretching therapy.
About Chicago English Bulldog Rescue
The Chicago English Bulldog Rescue (CEBR), Illinois' premiere English Bully rescue, has been helping pure-bred bullies and their families for four years. The only 501c3 English Bully rescue in the state, CEBR's members belong to the Bulldog Club of America Rescue Network, adhering to the highest standards of care. CEBR is a licensed shelter with the Illinois Department of Agriculture.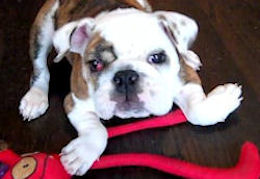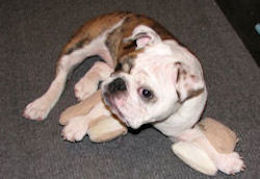 Photos: (Left) Cranberry suffers from a congenital defect, which prevents her from walking on her front legs. (Right) Cranberry wears her "bumpers" to keep her legs protected.