I know, it's July. What do costumes have to do with the heat of summer, cookouts, and the pool? Easy – I have a 10-year-old daughter who likes to plan parties for the family and the 4th of July is on her list of to-do's this year.
She's decided to have a luau because her Grandma recently gave her a grass skirt and flower leis to play with. Unfortunately, that's the only luau party decorations we own and when my daughter plans a party, decorations are first on her list. That's the reasoning behind our latest shopping excursion (online of course) and while looking for the supplies we found a diamond in the ruff (I mean, rough)…
So we Googled Luau party supplies and found a pretty neat site full of exactly what we needed at pretty darn good prices. There were several things we snagged for under $5 and were about to checkout when my daughter noticed up on the top right of the site that they have an entire category devoted to pet costumes. I figured it wouldn't hurt to look and that's when we got lucky.
We have 2 Cairn Terriers. They have clothes. Anyone with kids and a pet would be lying if they said they've never dressed their dog or cat in something. Maggie and Mojo actually have clothes. Maggie's got a sweater and a nice pink raincoat for inclement weather and Mojo sports a hoodie that says Champ every once in a blue moon.
Would you believe, my actually found luau costumes for Maggie and Mojo? Yeah, I hardly believed it either. Turns out they were on clearance, too. So now we're not only awaiting the arrival of palm tree props, a tropical window view, totally narly surf's up dinner plates, and other party favors… we're also awaiting the arrival of Maggie and Mojo's attire for the big bash:
Turns out, if we were planning a more tradtional 4th of July party we could have donned each of the four dogs in Uncle Sam hats, too. For that matter, the horses could have sported the same hat I suppose.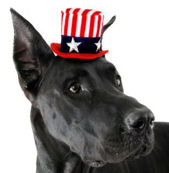 But then they're not much on playing limbo anyway so I think we'll just let them graze the day away as usual.
You, on the other hand, should go check out the other pet (and people) costumes they have. I think we're gong to order Halloween costumes for the kids there this year, too!