When we, as humans, exercise and sweat, it is highly recommended that we not only drink plenty of water, but that we also drink mixtures that are high in electrolytes, such as Gatorade. Additionally, electrolyte-rich drinks are often used to help hydrate sick infants and children, particularly those who are at risk of dehydration, due to nausea and/or fevers. Often overlooked, however, are our canine companions. New veterinarian-recommended doggie "health-drinks" hope to make this problem a thing of the past.

Animal Biz Concepts (ABC), LLC, has been gaining attention with its Cool Pet thirst quenchers and flavor enhancers for dry dog food. Specifically designed to provide pets with much-needed electrolytes, the Cool Pets line encourages pets to remain hydrated by offering a tastier and more nutritionally-balanced alternative to regular drinking water, as well as enhancing pets' dry kibble, helpful when traveling or under other stressful conditions. Available in a variety of flavors, the individually-formulated Cool Dog®, Cool Cat®, Cool Horse®, and Cool Bird® products come ready to use (i.e. no mixing required) and are an excellent supplement for pets of all ages and conditions.
The idea for Cool Dog® came about during the hot Florida summer of 1995. While walking his Rottweiler, Malcolm, along the sandy beach, company founder and current President Jonathan M. Lewis thought to himself that there had to be an easier way of getting his dog something to drink during these long walks. Surely there was an alternative to carrying cumbersome gallon jugs of drinking water around in his backpack for the slobbering and panting canine companion.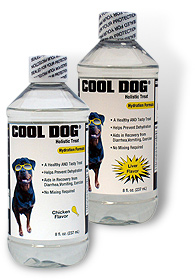 It took eight years to acquire the necessary experience in both manufacturing and quality-assurance of health products before Lewis would be ready to strike out on his own. In the end, however, it was a success and gained special recognition in his heart when, during the last few days of Malcolm's life, it was all that the old boy would drink. "It was his way of telling me that all the years in developing this product was worth the effort," said Lewis.
Cool Pet® products are currently offered for sale, online, at animalbizconcepts.com and will soon be offered at many local, regional, and national retail chains catering to pets. If proper hydration of your pet is a concern, it's highly recommended that you talk to your local store as well as your veterinarian about carrying this or similar products for your pets.