The Real Star of Night at the Museum Battle of the Smithsonian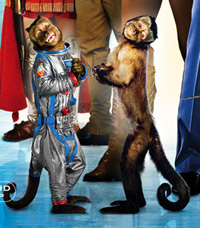 Crystal, the Capuchin monkey who played Dexter in Night at the Museum (2006) is back in the sequel, Night at the Museum Battle of the Smithsonian(2009). The kids and I watched the movie last week and I'm again fielding questions about why we simply cannot have a pet monkey.

It's not that I wouldn't love to have a pet monkey, or rather that I don't understand what it's like to be a kid infatuated with the idea of having a pet monkey. Look at them, they're adorable! It's just that in reality – we don't have the time, the resources, the space, or the knowledge, to take care of a Capuchin monkey!
If you're having a similar discussion at your house, you might try pointing out that the Capuchin monkeys live pretty long and it's likely to be a 30-year commitment (or more). Even better, add 30 years to your child's age and tell them that they'll have to take care of the monkey until they're 41 (in my daughter's case). That's a pretty good way to get your point across.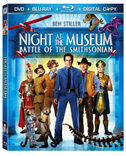 We've decided that we're better off watching Crystal in the movies and envying the actors and actresses and trainers who work with monkeys. We're particularly fond of laughing at Ben Stiller's slap fests with Crystal in the first Night at the Museum movie and we weren't disappointed in Battle of the Smithsonian!
We loved Ben Stiller (Larry Daley, the night guard), Robin Williams (Teddy Roosevelt), and Owen Wilson (Jedediah Smith) in the first movie and they're all back in Battle of the Smithsonian! We also adored the addition of Amy Adams (brilliant in Enchanted) as Amelia Earhart in this sequel. But we really enjoyed seeing Crystal back in action, along with Squirt – her Capuchin Co-Host – in the film.
We did some research about Capuchin Monkeys and, in particular, about Crystal and we learned quite a bit about her. I thought I'd share what we learned, tell you what our movie-watching plan is for the upcoming holidays, and share some pictures and links – all featuring our favorite little monkey.
What We Learned About Crystal . . .
She's a 15 1/2 year old Capuchin monkey who lives with her handler and trainer, Tom Gunderson. He's had her since she was 3 (so for about 13 1/2 years now). He gives her a bath every single day and while he obviously loves Crystal, he wouldn't recommend owning a Capuchin monkey for a pet because, according to Tom they're very high maintenance, they're possessive and can be aggressive and they're messy and destructive. Wow, sounds a bit like a toddler.
Capuchin monkeys aren't very clean animals either. Their only sweat glands on on their hands and feet and in the wild they'd wash their hands and feet with their urine!
Tom has spent a lot of time training Crystal, more time than the average person has available to spend on a pet. He spent 2 1/2 months of additional training time with Crystal for her role on Night at the Museum Battle of the Smithsonian. Her favorite food is yogurt, but she eats at least 5 different fruits and 5 different veggies every single day. She also loves nuts and seeds, pistachios are her favorite and she loves cracking walnut shells.
Still thinking you'd like a pet monkey? What if I told you Crystal doesn't really like being hugged and that she's a bit uncomfy around big animals like horses.
Our Crystal Movie Project . . .
One of the best things we learned about Crystal is that the Night at the Museum movies aren't the only movies she's been in. We've seen many of the movies in her repertoire, but we didn't realize that Crystal was in them – so we're going to try to go on a Crystal-spotting movie safari over the holidays. Here's a list of titles we'll be watching. If you know of any more, please leave us a comment so we can consider adding it to our 'watch' list!
Night at the Museum
Night at the Museum Battle of the Smithsonian
Dr. Doolittle 1
Dr. Doolittle 2
George of the Jungle
Shaggy Dog
3:10 to Yuma
You can also catch Crystal appearing in:
American Pie 1
American Pie 2
Fun With Dick and Jane
Terror Tract
We also found out that Crystal will be in the comedy The Zookeeper next fall. What's not to love about the idea of Kevin James and Crystal in a movie?! The icing on the cake? Adam Sandler will be the voice of Crystal and Sylvester Stallone the voice of a lion. Sweet!
Fun Pics & Clips of Crystal . . .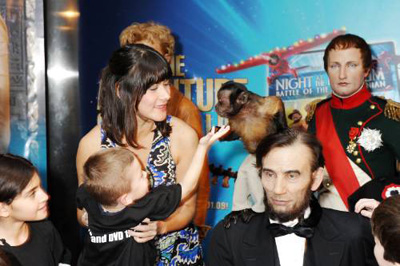 Mizuo Peck ("Sacajawea") and Crystal ("Dexter," "Able") unveil the all new Night at the Museum: Battle of the Smithsonian exhibit with nearly 50 local children who participated in the first ever sleepover at Madame Tussauds in New York to celebrate the December 1st Blu-ray and DVD release from Twentieth Century Fox Home Entertainment.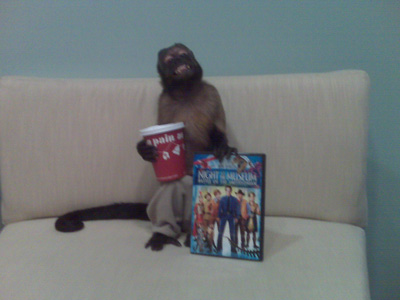 Crystal in the green room at Fox and Friends to promote Night at the Museum:Battle of the Smithsonian on Blu-ray and DVD.
Watch the kOL (Kids AOL) coverage of the Night at the Museum: Battle of the Smithsonian Movie Premiere!

See Crystal on MyFox NY!

See Crystal the Monkey and her trainer, Tom Gunderson on Pawnation!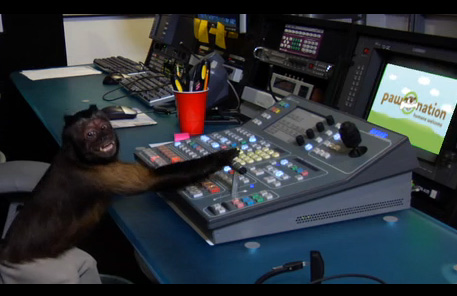 See Crystal the monkey chat with KOL!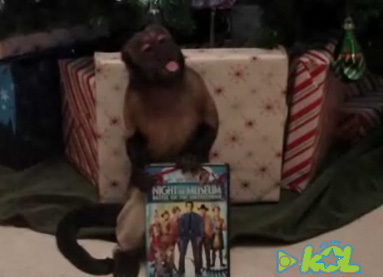 Great Gift Idea
We received a free preview disc of the Night at the Museum Battle of the Smithsonian movie but went and bought the gift set for our family movie collection.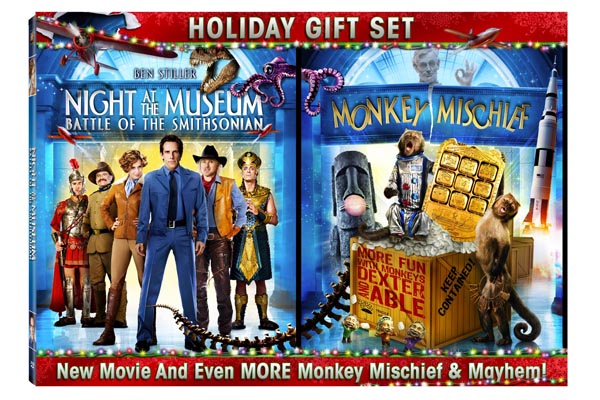 The limited edition "Monkey Mischief" double DVD boasts a second disc including over 30 minutes of entertainment complimenting the bonus materials featured on the first disc, including cast and crew commentary, six deleted scenes with an alternate ending, a gag reel, and more. The holiday two-pack DVD will be available for the suggested retail price of $34.98 U.S. / $45.98 Canada.