It's always best to buy natural dog treats to save your pet from unnecessary additives that may pose health threats. Fat and sugar-rich dog treats contribute to weight problems and should, most often, be a complete no-no.
When looking for good dog treats, look for ones that have a high concentration of fibers and proteins. Treats that consist primarily of fish are always good. And treats that consist of dried meats (like venison) are also good. Both have a pretty strong odor, but dogs love them and they're often low in calories and fats.
If you're using treats as a positive reinforcement during training, try cutting back on the portions at the next meal time to help balance his diet. A good rule of thumb is to not let dog treats make up more than 10% of your dog's diet! I have, on occasion, used multi-grain Cheerio's as training treats for my Cairn Terriers since it allows me to give several treats over the course of working with them without it being too big of a snack.
When choosing treats, rely on your instincts when you're label-reading. Or why not try making some of your own. Here are a couple of our favorite recipes. They're easy to make and the dogs love 'em.
Homemade Dog Treat Recipes
The best part of making homemade dog treats is that you know what goes into them and they're fresh. It's also a fun activity that my kids thoroughly enjoy! Here our two of our favorites: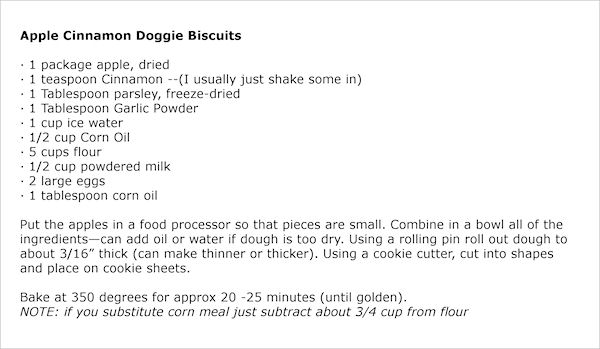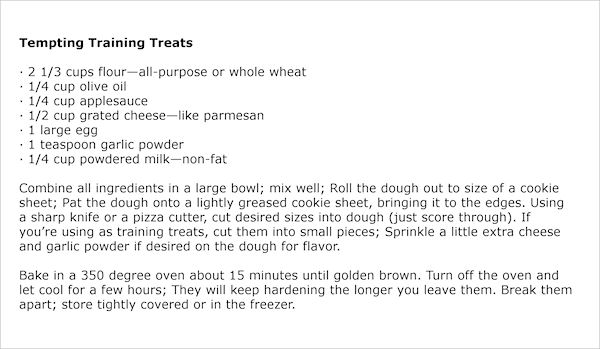 Both of these recipes came from this Rover's Recipes eBook. You can actually download both Volumes 1 & 2 for about $20. You get about 175 meal and snack recipes for dogs – but some of them are actually repeated between the volumes. What's nice, though, is that it also contains a recipe for dog shampoo, a dry shampoo, flea powder, and some homemade remedies. You'll need the Adobe Acrobat Reader to open and read the PDF files.
Here's a list of what you'll find inside…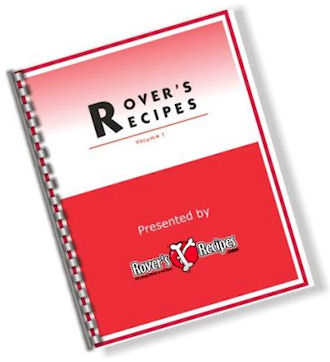 Food:
Appetizers & Meals
Special Diet Meals
Gravies
Frozen Treats
Cakes, Pies, and other Desserts
Cookies, Biscuits, and even Brownies
Dog Shampoos and Soaps:
Shampoo Bars
Dry Shampoo
Body & Coat Teas
Home Remedies for Ailments:
Flea Powder
Urinary Tract Cleanser
Mange Parasite Treatment
Homemade Puppy Milk
Want another great dog treat recipe eBook to consider?
Try 400 Delicious Dog Treat Recipes for $17 – includes 31 Tantalizing Tasty Canine Treats, 50 International Scrumptious Bow Wow Feasts, 49 Wholesome Heavenly Healthy Fido Snacks, and 50 Delicious Gourmet DogMeals, and a Dog Lover's Dream Recipe package.