It's always best to buy natural dog treats to save your pet from unnecessary additives that may pose health threats. Fat and sugar-rich dog treats contribute to weight problems and should, most often, be a complete no-no.
When looking for good dog treats, look for ones that have a high concentration of fibers and proteins. Treats that consist primarily of fish are always good. And treats that consist of dried meats (like venison) are also good. Both have a pretty strong odor, but dogs love them and they're often low in calories and fats.
If you're using treats as a positive reinforcement during training, try cutting back on the portions at the next meal time to help balance his diet. A good rule of thumb is to not let dog treats make up more than 10% of your dog's diet! I have, on occasion, used multi-grain Cheerio's as training treats for my Cairn Terriers since it allows me to give several treats over the course of working with them without it being too big of a snack.
When choosing treats, rely on your instincts when you're label-reading. Or why not try making some of your own. Here are a couple of our favorite recipes. They're easy to make and the dogs love 'em.
Homemade Dog Treat Recipes
The best part of making homemade dog treats is that you know what goes into them and they're fresh. It's also a fun activity that my kids thoroughly enjoy! Here our two of our favorites: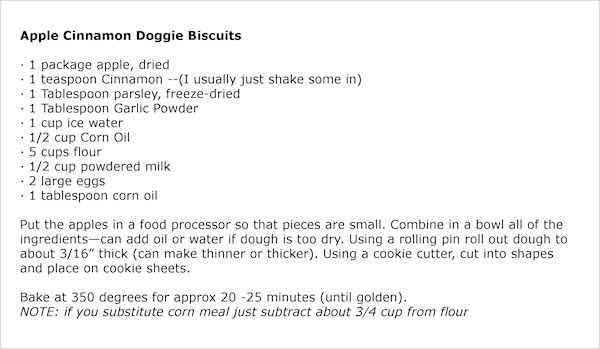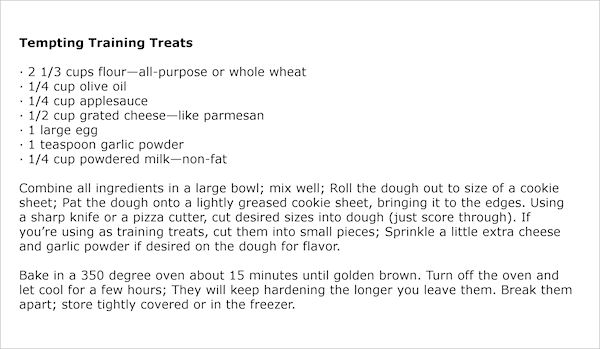 Both of these recipes came from Rover's Recipes, an eBook that, unfortunately, no longer seems to exist.
Since the old eBook is no longer available anywhere we could find, we thought we'd find some others to consider.
We really like Will Bake For Wags: Illustrated Dog Treat Recipes by Tennille Harron (Author) and Derk Harron (Illustrator). Amazon sells the hard cover, paper back, and a Kindle Version.