Cats are the loving companion that so often takes a back seat to the dog who can be publicly paraded around. Very seldom do we see cats dressed up and strutting their attire. Cats can also be victims of abuse, abandonment and neglect. We need to appreciate the importance of cats in our lives and do all we can for their well being.
"Of all God's creatures, there is only one that cannot be made slave of the lash. That one is the cat. If man could be crossed with the cat it would improve the man, but it would deteriorate the cat." – Mark Twain
The cuddly and affectionate cat will keep you from being lonely and bored. They are a great source of humor, their actions and movements are so animated that their playfulness will unravel the child in you. Just watching them will ease stress and make you feel more relaxed. So soft to the touch and full of curiosity, wanderlust and aloofness.
It's no time to hide your cat pride! Please join us in celebration of our feline friends and don't forget to tell every cat lover you know!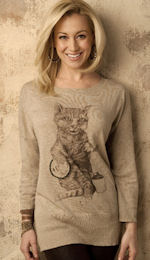 In honor of Cat Appreciation Month cat lover and country music singer Kellie Pickler teamed up with fashion designer Geren Ford and Fresh Step litter to help design a limited edition "Kitty Crooner" sweater. The sweater was designed for fellow cat lovers to show their feline pride in honor of Cat Appreciation month. All the proceeds from the sweater goes to the American Society for the Prevention of Cruelty to Animals.
In addition to 100% of the proceeds from the sweater going to the ASPCA, cat lovers can post pictures of themselves on Fresh Step's Facebook page throughout Cat Appreciation month and Fresh Step litter will donate $1 for every fan who posts a picture through March 15, 2012. If you don't have any cat clothing, check out the cool app that Fresh Step litter created. It lets people place digital sweaters on their photos!
Cat owners who want to show their cat pride by wearing the "Kitty Crooner" sweater can purchase the sweater for $35, while supplies last. And remember 100 percent of the purchase price benefits the ASPCA.
You can win the actual sweater Kellie Pickler wore on January 24 to kick off the campaign. It is being autographed and auctioned off in a package that includes two tickets to one of her upcoming concerts, a meet-and-greet at the concert, and an autographed copy of her new album, 100 Proof! The auction runs through February 14, and 80 percent of the auction price will benefit the ASPCA.
"A cat has absolute emotional honesty: human beings, for one reason or another, may hide their feelings, but a cat does not." – Ernest Hemingway
If you are one of the countless individuals who is totally in love with your cat, you are in good company. Here is a list of famous cat lovers…..
Ian Anderson (1947- ) Musician
George Burns (1896-1996) American comedian, actor, and producer
Sir Winston Churchill (1874-1965) British politician
Charles Dickens (1812-1870) Author
Albert Einstein (1879-1955) Physicist
Robert Goulet (1933- ) Recording artist, star of stage, screen and TV
Ernest Hemingway (1899-1961) Author
Robert E. Lee (1807-1870) Career army officer
John Lennon (1940-1980) Singer
Charles Lindbergh (1902-1974) American aviator
Florence Nightingale (1820-1910) Humanitarian
Edgar Allan Poe (1809-1849) Author
Queen Victoria (1819-1901) Queen of England
Sir Isaac Newton (1643-1727) Scientist and philosopher
Visit your local shelter and adopt a cat!