When I was a kid I had a Boxer dog named Nero and he was a mammoth of an animal. I was actually able to ride him like a small horse around the neighborhood. One slobber from his tongue was enough to completely coat my head in doggie drool. Now that I'm older, I thought it time again to find a canine companion for myself. I'm a very active person and I like to stay in shape by hiking, running, and playing watersports. I wanted an animal that could do all those things with me and enjoy it. After researching I narrowed the field down to five breeds that are perfect for the active lifestyle. I hope these prove helpful for those looking for an active furry friend;
Rhodesian Ridgeback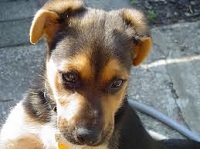 These bad boys originated from South Africa to hunt lions and were originally known as "African Lion Dogs." Oddly enough, they are relatives of the Dalmatian, but with a more streamlined and muscular build and completely different coloring. They are a favorite of athletes because they can keep up with the intensity of a training schedule. Due to their size and energy, it's important to spend time training them as puppies.
Boxer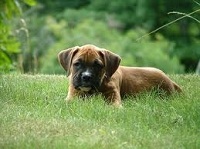 I had a boxer as a child and he was a fantastic family pet. He could keep up with the hyperactive hijinks of a 6 year old boy and still have energy leftover. Though they make look intimidating, they will quickly charm you with their goofy, friendly demeanor. They are great for hiking trails and excursions in the wilderness as their stout haunches carry them easily over boulders and steep grades. They can be very shy about water though so if you plan on taking them into the water, give them positive experiences as a puppy.
Viszla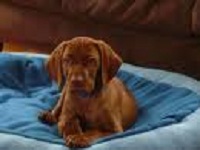 Viszlas will take your breath away with their sleek, rust colored coats. Originating in Hungary, they were bred for originally pointing and retrieving. Their endurance is high so they are great companions for any running/hiking activity. They tend to live to be about 12 to 14 years old which is quite old for their size. They are also not prone to many of the health problems of other pure bred dogs.
German Shepherd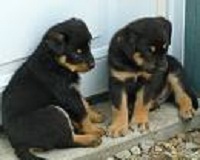 These dogs are commonly known in our country as police partners. They have boundless energy and incredible intelligence so they are great if charged with a specific tasks. Because of their shepherd mentality, they can be very aggressive towards other animals and strangers so please make sure you train them young or take them to professional training classes as an adult. They love to run and stay very active, but do have the highest incidence of hip dysplacia amongst the large running dog breeds.
Mixed Breeds/Mutts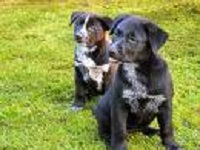 The best thing you can do for your potential companion is to adopt them as from a local shelter. Mixed breeds can be surprisingly sturdy as they are not prone to the health problems of pure breds. You will need to spend some time with them before deciding if they will be able to keep up with your active lifestyle. However, if you put in the time, you'll not only get a great friend and companion, but you'll be giving a loving animal a much needed home.

John Durfee is a Gulf War veteran and dog lover. As an active outdoor enthusiast, he loves nothing more than enjoying the beach and trails with his dog. Rain or shine, they are out and about! He is also a manager for Airsplat, the nation's largest retailer of Airsoft Guns and Airsoft Apparel.