We got a really nice offer from Todd Stupell at Stupell Industries. He's wanting to send one of our readers a personalized, hand-crafted dog bone plaque . . . for FREE! So we're on the lookout. If you'd like to win a plague like this one, read on to learn how you can enter the drawing.
Stupell Industries, Inc. is located in Johnston, Rhode Island. They specialize in beautifully hand-crafted, decorative accessories for homes, offices, and even home offices. In business for over 30 years, their line includes quite a wide variety of firescreens, wall hangings, faux windows, clocks, place mats, picture frames, tables, and other unique decorative objects. They're constantly updating their product line to keep in tune with the latest trends and styles in the ever changing home decorating market. They've recently added an entire line of decorative dog accessories, which is why he's contacted PetsBlogs with this special offer for one of our readers.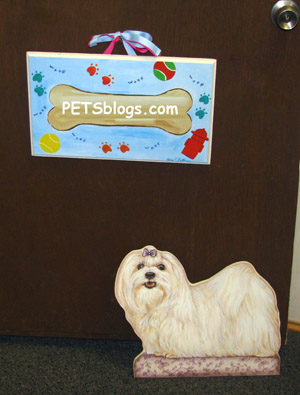 The dog bone plaque was designed by artist Jane Farrimond Keltner exclusively for Stupell. It makes a perfect gift for a fellow dog lover, or a functional and aesthetically pleasing addition to your own home.
All you have to do is leave a comment below telling Todd what you'd like to have painted on your plaque. Our plaque would says PETSblogs! Cool, huh?!
Entering to win is easy!
What would you have them write on your dog bone plaque?
Leave us a comment before August 6th at 9am (EST), when Todd will be reading over the comments and selecting a winner.