by Jeff Nenadic
Oftentimes considered the most intelligent of all breeds of dogs, the Border Collie originated in the English and Scottish border country, and is an excellent sheep herding dog. They were plentiful in numbers in England and Scotland during the 1800's when they were used as fetching dogs in order to circle sheep herds and keep the animals close to the shepard. By 1873, sheepdogs known as Border Collies and became extremely well known when the breeds character was tested at the first official sheepdog trial in England.
The first known Border Collie on record, tested at this trial, was a male named Hemp. He was used to sire more offspring and has oftentimes been referred to as the Father of Border Collies for this reason alone. Hemp used a combination of eye contact and fear in order to herd the flock, and was considered the most intelligent dog of his day in the British Isles.
Despite the fact that the breed had been recognized since the 1800's, the name Border Collie was not deemed as the official breed name until 1915. Sheepherders in the U.S. who were in dire need of a smart herding canine welcomed the Border Collie with open arms upon their arrival in North America. Unfortunately, where the AKC is concerned, they were never considered as a competitive show dog until the mid 1990's.
The two primary traits of the Border Collies personality are obedienc and intelligence. Unfortunately, if they are kept indoors too long and not tended to, they can become rather destructive in their efforts to entertain themselves and stimulate their brains. Additionally, the Border Collie at times will display an aloof, guarding type of behavior as they are extremely loyal and protective. And this behavior is exhibited the moment a strange human, dog, or other animal gets too close to their masters.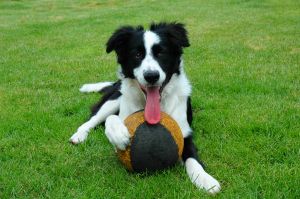 Mental and physical stimulation on a day to day basis are critical issues with Border Collies and many breeders and dog experts have the tendency when appraising the dogs personality to say that the breed simply has a job to perform. So they will take advantage of any such opportunity as it arises. In so many words, this dog has been genetically programmed to perform a multitude of work functions.
Despite their desire to be indoors with their families, they are quite capable of tolerating mild to cooler weather conditions. As the breed requires significant amounts of room to roam around for exercising, it is ill advisable that you subject the dog to an apartment like environment. In fact, the more astute breeders will deter you from obtaining one if you reside in an apartment, condo, or studio type residence.
Border Collies have been known to live as long as 15 years, but 12 years is their average lifespan. Fortunately, there are no major health concerns with this breed so you do not have to worry about anything unforeseen arising during the dogs life. The only issue on rare occasions is CHD, Coronary Heart Disease. Minor health issues include CEA, hypothyroidism, lens luxation, OCD, PDA, PRA, and seizures, but these conditions are rare and seldom occur with any documented regularity.

My-DogShop.com has a huge selection of over 300 dog grooming tools and dog grooming supplies.