Got a minute or two to talk about your pets? Amy Wallace is hoping you do. LA Mag is doing a survey and they'd like to get a lot of responses from pet owners.
Fill out their pet survey and you, your responses, and even a photo of you and your pet could be featured in their May issue. It's in the interest of science—sort of.
Take the survey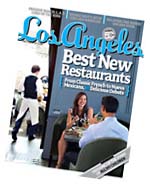 Los Angeles is a regional magazine of national stature. Produced monthly since the spring of 1961, with a combination of award-winning feature writing, investigative reporting, service journalism, and design, Los Angeles is the definitive resource and indispensable guide for Angelenos. We cover the people, lifestyle, culture, entertainment, fashion, art and architecture, and news that define Southern California.