Kristin Chenoweth is making an impact on the animal community. It started with a Maltese named Maddie. The bundle of love stole her heart.
Maddie's unconditional love inspired her to start the animal charity Maddie's Corner so she could use her notoriety as a singer and actress to help and support other animals in need. Maddie's Corner vision is to inspire a more humane, thoughtful and tolerant society that will benefit the quality of life of both people and animals. Using her resources and fame she is being a part of something larger than herself.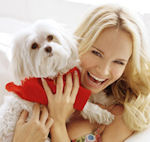 Their mission is to bring attention and support to animals in need – more specifically, homeless animals in shelters/rescue – and groups working on their behalf, as well as to highlight the many ways animals help people in need and enrich our lives. We hope to increase awareness about responsible pet ownership and the joys of including animals in our lives, to educate about and to inspire humane attitudes toward animals, and to provide resources to those groups working directly with animals in need as well as those working with animals to assist people in need. In addition, we will periodically initiate activities benefiting human causes that will include the participation of animals to convey our message. The hallmark of Maddie's Corner is that animals, whether as the message or the messengers, will always be active participants in our activities.
There is a unique opportunity on Maddie's Corner Pet Tales where you can share an interesting or inspiring story about a special animal rescue, adoption, a therapy dog or an agility champion.
Our hat is off to Kristin Chenoweth for the difference she is making.