We receive a lot of email and it is generally the unique idea or interesting approach that catches our attention. In the case of Jose Barrios and his portable, collapsible, double-sided dog bowl it was both the product and the fact that he'd invented it that caught made us take a second look and want to share both his product and the method he used for seeing his idea to fruition.
Necessity Is The Mother Of Invention
The best inventions solve a problem and Jose had a problem with the collapsable dog bowls he was finding on the market. Each time he used them, he'd have to toss out the food and water (or very, very carefully pour them back into another container). He was searching for a food and water bowl that was collapsable (would travel well) but would also allow him to keep food and water on the go (offering it whenever he wanted).
His Collapsible Pet Bowl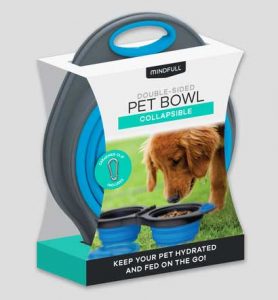 It's a portable, collapsible, double-sided bowl you can use while you're out and about with your dog (or your cat for that matter).
Lightweight and durable, each pet-safe silicone bowl is collapsible and has a watertight lid that keeps food and water fresh. This collapsible pet bowl really is unique. And it's easy to clean and perfect for walks, camping trips, hikes, car rides and any other time you and your canine companion are away from home.
My invention is different from existing portable, collapsible dog bowls because it allows you to re-seal your dog's food and water and fold the bowls into a mini briefcase. That's something that existing travel bowls won't allow you to do. You'd have to empty the contents out, meaning, you'd have to throw away the food and water and then fill them again the next time you want to give your dog a food and water break. With this bowl set, your dog can pick up where they last left off.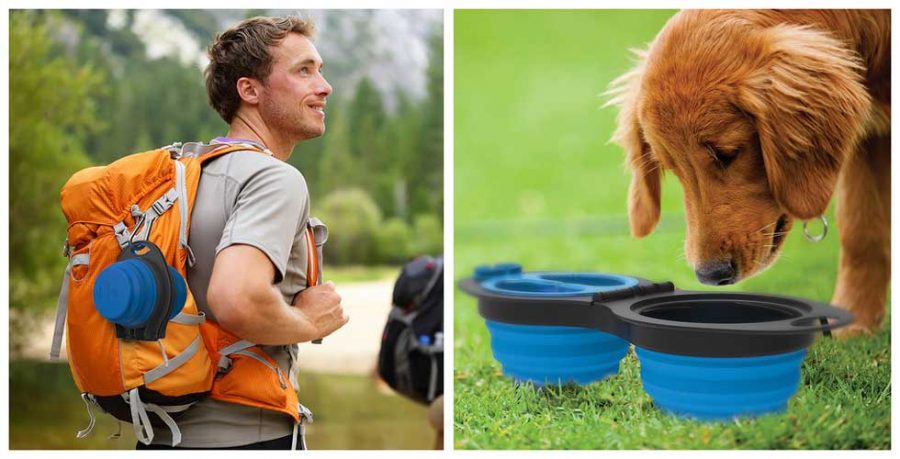 Here's a great review showing how it works:

And evidently it works for a mini pig adventure, too:

How Did He Take It From Invention to Product?
Mindfull Products. They were having a product search for pet related product ideas and Jose though he might as well submit his idea for a chance that it would become an actual product he and other dog owners could use and find handy.
Mindfull Products is a company that allows ordinary people to submit consumer product ideas in hopes of getting them made and sold in retail stores. He said they seemed like a reputable company with many years of experience under their belts. Plus, he knew nothing about financing, designing, tooling, prototyping, packaging and then selling his product idea and they take care of all of that for you (without you having to shell out thousands of dollars).
Of course, there's a catch. You pay a $10 submission fee for them to review and consider your idea and if they think it's a good one they'll either sell it directly (you'll receive five percent of net sales for 20 years with a minimum guarantee) or license it to one of their branded manufacturers (you'll receive fifty percent of all royalty revenue received by Mindfull Products, Inc.)
So if you don't have a clue how to go about bringing an idea to fruition, or the money to hire someone to help you, it's a decent way to go about it. Jose submitted $10 and his idea and didn't have to pay another dime or do any other work to see his idea become an actual product he (and other pet owners) can use.
Other Mindfull Products
There is another pet product currently for sale on Mindfull Products – the Hands-Free Dog Poo-Hickey. It's a poo bag holder that solves the problem of having to hold a leash in one hand and a smelly bag of dog poo in the other. It easily attaches to most standard nylon or cloth leashes (non-retractable) without tools and holds up to three full bags of waste. That's a lot of poo.
It looks like they also have a cat water bowl in development as well as a pet pooch platform that will be coming out soon, too.
Submitting Your Idea
If you're 18 or older and have a good idea for a new pet product, or any other product for that matter, hop on over to Mindfull Products to see how it works.
If your pet product idea gets made, let us know!