Fans of golden retriever dogs, old and young alike, will find this sequel to Air Bud a charming, if undemanding, movie. Picking up a few years after the original left off, this movie focuses on the Framm family's young teenager Josh he struggles to cope with his father's death, and his mother Jackie's attempts to start dating again, and his lack of confidence in his own athletic ability at a new sport. With the help of his precocious dog, Buddy, Josh is finally able to confront all these issues and experience the thrill of victory.
Set in the quaint town of Fernfield, Washington, the story starts with a reminder of what a great athlete Buddy is, and his passion for basketball. After being told that he cannot accompany the family to a basketball game, Buddy manages to sneak out and ride quietly in the back of the family's car to the game. He makes his appearance later in the game and ultimately ends up stealing the show by dunking a few shots on behalf of the high school's team, leading them to victory.
We soon see that Buddy is not only good at sports, but also great at scaring away potential dates for Jackie's mother (at Josh's behest). Jason and his friend Tom take Buddy on a routine visit to the vet, where we meet Dr. Sullivan, a new vet in down. Buddy immediately warms up to the new doctor, a pleasant surprise for Josh; trips to the vet were no walk in the park for them with Buddy in the past. This encounter leads to a highly amusing chance meeting between Jackie and the handsome new vet at the docks, and ultimately a date. Unable to deal with their growing closeness, Josh reluctantly decides to join Tom at after-school football practices to avoid seeing Dr. Sullivan and his mother together.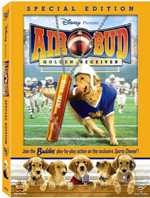 Josh and Tom arrive at their first practice only to be confronted by a laughably awful team run by Coach Fanelli, who believes that football should be about fun, rather than just winning. We soon discover that Josh has a great throwing arm (previously unknown to him) and is accepted on to the team as a second-string quarterback, while Tom joins as a wide receptor. At their first game of the season, which they are losing badly, Buddy once again steals the show, catching the football and scoring a touchdown for the Fernfield Timberwolves. After they win this game, Buddy becomes an integral member of the team, leading them to the state championship.
While things seem to be turning around for Josh at school, he is still greatly displeased by his mother dating Dr. Sullivan, and distressed by the secret he accidentally learns about his football coach. As if that weren't enough for the teenager, he and Buddy are unknowingly threatened by a pair of Russian animal thieves kidnapping various talented animals to add to their traveling circus. Once they catch sight of Buddy and his basketball talent, they relentlessly pursue him to add to their lineup.
The movie's cast list does not boast many famous names. It does, however, contain some solid performances by its actors, in particular Kevin Zegers as the troubled but earnest Josh Framm, and Robert Costanzo as the compassionate, voracious eater Coach Fanelli. Like all of the Buddy movies, this movie is G-rated and is certainly geared towards younger children with its 'Home Alone'-type antics and situations.
However, it has plenty of entertainment for adults, too. The overly zealous Principal Salter who howls sings the national anthem and announces the games, the 'Boris and Natasha'-like animal thieves Natalya and Popov, and the thoroughly enjoyable cameos by Tim Conway and Dick Martin as the State Football Game announcer and his bumbling cohort, were all reference jokes that would sail over most kids' heads.
Bottom Line: The young and the young-at-heart will all find something to smile about in this family-friendly movie.
Watch the Air Bud 2 Movie Trailer . . .