I'm pleased to announce the 2 My Marley Moment winners here on PETSblogs today. Now that everyone has been notified and responded, I'm free to write a bit about the winners and what they've won.

THE GRAND PRIZE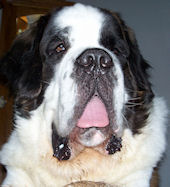 Bob and Jeralinn Roche have won a copy of Marley & Me on DVD as well as a year's subscription to Dog World magazine from Subscription.com.
Their Marley Moment?
The time when Parker, their Saint Bernard, blindsided Jeralinn while she was busy pulling weeds, which resulted in a broken nose (for her, not Parker)! Evidently Parker enjoys jumping up on family members when they're not looking. And given his size, well…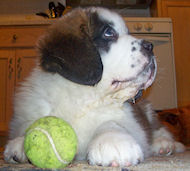 He also gets copious amounts of drool in the water bucket and Bob and Jeralinn know it's simply a tactic he uses to discourage the other dogs from drinking the water.
Parker is definitely a handsome boy, even if he does drool in the drinking water and likes to occasionally surprise his people when they least expect it. But he was an absolutely adorable puppy. Who could resist those eyes?
SECOND PLACE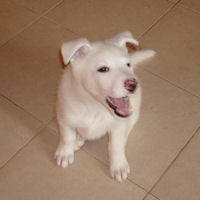 Ava, from Paw-Talk, also won a copy of Marley & Me on DVD.
Her Marley Moment?
Her roommate's puppy, Auggie, is constantly biting at her shoes, biting wires, and even biting the paper towels they use to clean up his doggie doo doo. So far the puppy hasn't manged to chew his way through any drywall or eat a hole in the couch, but according to Ava, there's a good chance he might.
MARLEY & ME – THE MOVIE
If you haven't yet seen Marley & Me be sure to go fetch a copy for yourself. It really is worth seeing and it will have you fondly remembering and appreciating your own special canine companion, and realizing that anything your dog might have done was nothing compared to the trouble Marley got into. I happen to like both Owen Wilson and Jennifer Anniston, so having them appear as John and Jenny Grogan made the movie that much better for me. Having Alan Arkin playing John's editor and Kathleen Turner as the dog trainer was just icing on the cake.
The story really begins when a young newlywed couple picks the bargain puppy out of a litter of golden Labs, utterly unaware of the total chaos, destruction, love, and joy he would bring to their lives. The dog grows as does the family and while some of the antics are familiar to anyone who owns a dog, Marley gives his owners more than their share of dog-owner troubles. He chews through sheet rock, flunks out of obedience school, destroys a couch, and eats a necklace. Based on the exaggerated antics in the film, Marley is the world's worst-behaved dog (or perhaps the Grogans are the worlds most lenient dog owners)…
But the beauty of the movie, at least for me, wasn't found in the comedic scenes (though some of them were quite funny), and it wasn't found in the story of the reporter who found inspiration centering articles around the hapless canine. The real beauty of the movie was in its portrayal of moments. On the surface it is a story about a neurotic dog and a story about a reporter turned columnist… but it's also a story about a family. And it's that story that served to reminded me that life really boils down to that – a collection of moments that are easily missed and often unappreciated.
My Favorite Moment from the Movie
When Jenn and John come home from a difficult doctor's visit, Jenn walks to the couch and sits down while John is bustling around the kitchen and talking a LOT, trying to make his wife feel better about the situation. Marley calmly walks over to Jenn and silently lays his head on her lap. That single moment in the movie defines the total devotion and understanding a dog can provide, even if he's the worst-behaved dog in the world.