There's a new dog park opening in Garden Grove, California. So for those of you living on the west coast, I'm including some details here. If you go, feel free to leave us a comment. If you have questions about the event, you'll need to call (714) 741-5200.
WHAT: Garden Grove Park – Grand Opening
WHERE: 9301 Westminster Ave, Garden Grove, CA
WHEN: Valentine's Day (Saturday, February 14th 2009) from 10 a.m. – 1 p.m.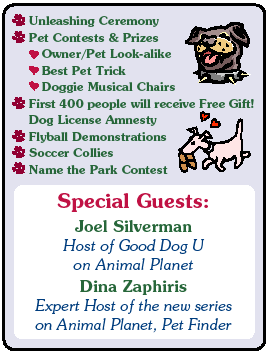 They've lined up lots of entertainment for the grand opening. They're planning pet contests and trivia (with prizes for the winners) along with special appearances from Soccer Collies, Woof Gang Fly Ball, Disc dog Demo, Dina the "Pet Finder" host from Animal Planet, Joel Silverman "Good Dog U" trainer, and much more making it a fun day for both two and four legged friends!
They're also collecting donations of all types of pet food at the event, which will then be delivered to an Orange County food bank.
Garden Grove is asking the public for suggestions for a name for their new dog park. Make sure to visit the Garden Grove booth the day of the event and submit your idea and receive a free gift!!!