by Christina Cline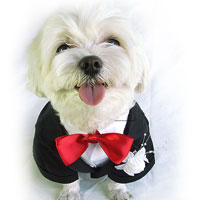 There's a lot of "bark" going on about fashion for our furry friends, with a large dog pile of opinions on what kinds of accessories and clothing are appropriate for dogs, and whether dogs should even be accessorized and clothed in the first place.

There are no right or wrong answers when it comes to the questions of canine fashion. For those of us that hold our furry friends close to our hearts, the choices we make about dog clothes resemble the fashion choices we make for ourselves and for the other members of our family. Dog owners who strive to look good themselves and make a fashion statement any time they walk out the front door will naturally be passionate about their pup's appearance as well.
Dogs that sport a trendy collar or cute shirt get more positive attention from everyone they meet compared to dogs that don't. Dog owners know that their pups thrive on this attention, and many times the owner does as well.
There is a bit of history behind dog clothing, dating back to around 520 B.C. Medieval men going to battle would dress their horses and war dogs in garments to protect the animals skin in the time of war. This is what led to the manufacturing of dog apparel and modern day clothing for dogs. Today we still follow that tradition of using apparel to protect our working dogs and pets. Imagine police K9's not wearing their bullet proof vests. Or our beloved service dogs who guide the blind without their vests as helpful signs to let the public know they are doing their job.
Some of our small dogs and pets of today need an extra layer in the cold winter months. The hairless dog breeds appreciate the warmth and comfort of modern dog apparel. There are many forms of dog clothes including knitted dog sweaters, costumes for holidays, and soft cotton dog T-shirts for any breed to either amuse their owners and guests with their funny designs or warn the public not to feed a working therapy dog.
Clothing is a reflection of our personality, and attention is sometimes the primary reason that we make the fashion decisions we do. Our variety of clothing makes us interesting; the way we dress and accessorize is a chance to express our individuality, and the same is true for our dogs. We receive compliments when we wear something that we feel and look good in. Has your dog ever refused a compliment? Chances are your canine friend thrives on them even more than you do! So put your pup in a trendy designer ChristinaCline collar that outshines your matching shoes and handbag, and watch them be the talk of the dog park!
For whatever reason you dress your dog, dog clothes started out with a purpose and have a long tradition of protecting the canine from harm. So don't feel silly if you have a separate closet of dog apparel for your pooch. It is a necessary tradition!


The joys that come with owning a dog are not comparable to anything else. With our trendy dog collars and new products being added all the time, you owe it to your furry friend (and yourself) to shop ChristinaCline! For more information, please visit our website at: ChristinaCline.com or www.dogclothesaccessories.com.