Wishing You & Yours a Happy New Year!
I know, it'll be a bit longer before it's official – but since it's New Year's Eve here in the U.S. I'm taking the liberty of posting about the Chinese Zodiac's Rat and Ox tonight.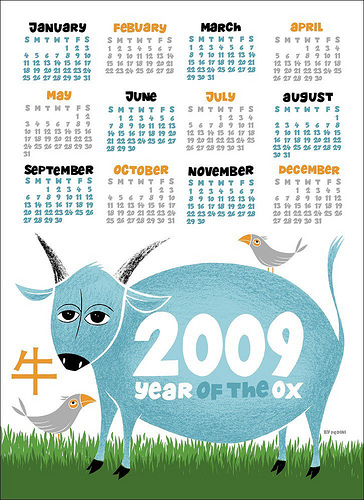 Gone is 2008 (the year of the rat) and 2009 (the year of the ox) is upon us.

I'm not very familiar with the Chinese Zodiac, so I did a quick search and found these characteristics to be most prevalent in the results for people born under the sign of the Ox:
-prosperity through fortitude and hard work
-power through unity
-strong codes and work ethics
-calm, dependable
-patient, unflagging
So I'm feeling pretty good about 2009.
Like the calendar?
Its a Roman calendar for 2009 with a Chinese New Year theme. These 16×22″ calendars are hand-printed by markpedini on heavy French paper. He's trying to sell some in his etsy shop to "pad" the diaper fund for his baby Neko. So click on the calendar to order one if you like it!!
Calendar Photo Credit – markpedini's photostream on flickr