When vet bills are too expensive…
If you are reading this, I already know that you love and want the best for your pet. Whether it be your running companion golden retriever or your lazy, yet fluffy, Persian cat, I know that you would do anything for the happiness, healthiness, and well-being of your pet. At the same time, I know that veterinary care can be very expensive. With stressful economic times and veterinary rates rising by almost 9 percent each year, finding the money for vet bills may become increasingly difficult or even impossible. Well, I am here to offer a solution that will combine your love for your pet with your love for technology without breaking your bank account.

What else would it be, but an iPhone app?
This new iPhone application, created by experts in pet first aid, offers tips and home remedies for pet owners. Entitled "Pet First Aid," this app not only has written instructions, but several videos, diagrams, and pictures to guide pet owners through helping their animals.  This application not only teaches pet owners how to react to potentially dangerous situations, but also how to prevent emergencies and perform certain routine tasks.  

"Pet First Aid" contains several categories.  The first major section, called "Emergency Situations" includes subcategories of bleeding, choking, drowning, and shock, which encompasses things like allergic reactions.  In each of these subcategories, pet owners can find an introduction, which explains the emergency and gives some scientific information.  Pet owners can also research symptoms and how to perform first aid should certain symptoms become apparent or an emergency occur.   To assist users with these tasks, the app provides videos and illustrations that clearly depict the necessary remedies and motions to make helping their pets as easy as possible.  Lastly, pet owners are taught how to avoid emergency situations with a prevention section.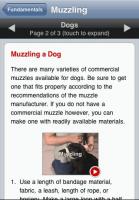 In addition to preparing pet owners for emergency situations, "Pet First Aid" provides information about how to react to minor situations and mishaps and the correct ways to go about everyday or wellness activities with your pet. Minor occurrences include bites and stings (animal bites, bee stings, snake bites, spider bites, and tick bites), bloat and torsion, burns, fractures and sprains, head and spinal injuries, heat and cold injuries, wounds (cuts, abrasions, and impalements), poisoning (phone numbers, hazardous substances, signs of poisoning, and first aid), and  illnesses that affect the eyes, ears, and nose.  Each of these categories is broken down into subcategories to more clearly educate pet owners.  In addition to providing the above information, "Pet First Aid" also teaches pet owners how to protect themselves, create a first aid kit, give medicines, recognize illnesses, muzzle, restrain, and transport their animals. 
As if this iPhone application did not provide enough information as it is, "Pet First Aid" also allows users to create profiles for their pets.  All the necessary information, like veterinary phone numbers, names and measurements, vaccinations, health records, and more can be recorded and stored right to your iPhone.  You will never have to worry about forgetting files when on your way to the vet or groomer.  
Try it for yourself!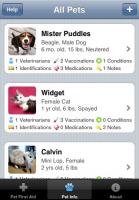 With the average cost of a non-emergency veterinary visit around $200, it is definitely worth having Pet First Aid: for Your Dog, Cat, Puppy, or Kitten available to you at all times.  Certain situations can not only be prevented, but treated as well, without ever setting foot in a vet's office.  With this app, your pet, your wallet, and you will be happier and healthier than ever! 
The content for the application was developed by PetTech, experts in Pet First Aid and Pet Emergency Preparedness Training. The application was developed by Jive Media.