If you love looking at pictures of adorable little kittens and then The Daily Kitten is for you!
This blog full of furry fun is as simple as it gets and a pleasure to peruse. I spent nearly half an hour and was totally lost in picture after picture available in monthly glances, 3 in a row, from the archives on the top right.
The first picture was posted on March 29th of this year and while I certainly didn't count every picture in the archives, I believe Michael when he says they post a new adorable kitten every single day.
So far, here's my own personal favorite photo: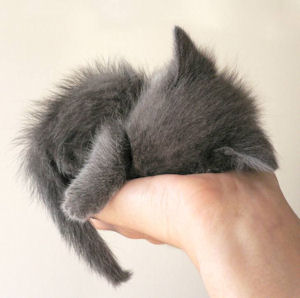 It's actually hard to choose a favorite. I also enjoyed this adorable kitten picture and would have to say it's my second-most-favorite on the site. And this mom and baby cat pic gave me major warm fuzzies.
This photo blog is so simple that it's sincerely a pleasure to visit when you're in the mood for cute cats. I love the newspapery feel of the heading as well:


Be sure to visit The Daily Kitten to kitty up your Google homepage, receive their free daily email (or RSS feed), enjoy random acts of kittenness, use their widgetbox on your own website, or maybe even submit a kitten pic of your own.
Or just start each day with an adorable kitten picture (or two or three).