Two years ago I retired and began a whole new life unfamiliar to me. After years in the work force and living by a strict work schedule I found myself with freedom. Freedom to get up when I woke up, shower in the middle of the day, get groceries on a week day and countless luxuries I had never experienced.
The only responsibility I did have was to care for my 13 year old blonde Cocker Spaniel. Normal household chores like meals, laundry and tending to husband were a walk in the park since I had 24/7 to accomplish those tasks. My sweet furry companion was a bit more time consuming since her age had also brought along some health issues.
For the first 8 years I had her, she went to work with me everyday. I was very fortunate in having a job for a landscape management firm located in the country. The men would all come to work get their equipment ready and loaded then off they went leaving me and Sophie to enjoy the day. She could just go outside when needed and I watched her from my window. I was the perfect job for a pet lover like me.
As all good things must come to an end, so did this job. The owner decided he wanted to live at the Outer Banks of North Carolina. He sold the 65 acre farm, all the equipment and rode off into the sunset following his dream.
So after a few weeks I had another job but not as convenient as the country job. This one was smack dab in the middle of a rather large city in central of North Carolina. This too was a pet friendly business but it didn't have a great location to just let your pet out the door to do business alone. Sophi was so used to coming and going as she pleased I decided that putting in a doggy would afford her that pleasure.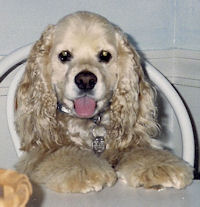 The great retirement day came and you could tell she loved the fact that I was now with her everyday, all day long. Where she used to follow behind me every step I took she now just tried to keep me in view. It was a great time for both of us.
About a year after retirement my precious companion went on to Rainbow Bridge. My heart was broken in at least a million pieces. She had a long and loving life I was grateful for but it seemed just too soon to not have her in my life.
Part of me really wanted to run out and get another dog but the pain of losing her was so great that I just couldn't do it. I am not sure I felt it would have been a betrayal to replace her or just my inability to love another pet and eventually go through the pain again. Whatever the reason, I have still remained without a furry companion.
I feel I have become a selfish individual because I love my total freedom from responsibility and don't want to give that up. I have been able to go as I please and return when I am ready. The time I get to spend with my grandchildren is priceless and limitless, that is until school started. I have this feeling deep down that I would love another pet but just unable to take the plunge and make the commitment. There is a great deal of guilt because I now feel I have turned into a very self centered person.
My entire life I have always had a dog in my life. I have always taken vacations where my non-human friend could come with me. Putting them in a kennel was never an option I would consider. Having a dog to care for it a total commitment to their well being and happiness. So here I am at a major crossroad with my heart and head in battle.
Guess I will just have to wait and see which one wins!