Books about dogs and pets are not hard to find. Some are just stories, some chocked full of useful information and others simply pictures of our pals.
Sleeping With the Beast, written by Dale Ryan, has it all and then more. While reading the book you will be able to feel the unconditional love she has for her dogs. There were times I felt she had more respect for the four-legged beast over the two-legged beast. The reasoning behind her feelings made perfectly good sense to me and I agree with that belief.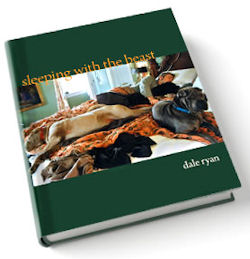 As far as I am concerned, dogs are far more honest with their intentions than humans, who seem to mask their true agendas. Dogs are quite clear about their needs, with no need for disguise or costume.
The book is about a New England family that is comprised of a couple with two sons and five dogs all cohabiting in one large farmhouse. The many photos are remarkable and tell their own story. You will get a close-up view of what it's like to live with dogs when you treat them not as a twenty-first century accessory but as part of the family.
She and her husband Quentin refer to Breeze Hill Farm as the canine castle. It is not actually a castle but for the dogs lucky enough to live there it is indeed a castle.
Dale shares decorating tips about what works in a home with dogs. Cooking and feeding ideas (including some recipes) and the basics of dealing with dogs in your kitchen.
They have four different garden areas: the formal garden area, the herb garden, the vegetable garden, and the cutting garden. She grows a variety of herbs for an additive in the dogs' food. The dogs enjoy the garden with her and love mucking about in the dirt.
The chapter I personally enjoyed was 'allowing animals to be beastly'. She wrote of the days gone by when we could jump on our bikes with the neighborhood kids and the dogs would follow. A misconception people have is the belief that dogs should rely on their human partner for everything. Dogs need to interact with other dogs and be themselves.
There is a chapter on making a canine addition to your family and what to consider. You will find a lot of useful information before deciding on what breed would be best for your situation.
Sleeping with the beasts is a definite at Breeze Hill Farms! Dale gives great hints for the bedroom as well.
Sleeping With the Beast is an intimate book about dogs and their human partners touching on legal, moral and philosophical issues. We give it thumbs up and recommend this book for dog owners that agree its okay to sleep with your beast. Those that think a dogs place is on the floor won't be as receptive to the book but could still collect countless good ideas.
Dale Ryan has studied art and design and has a Bachelor of Science Degree in Art Education.
She has been working on projects ranging from dog shelters, schools, and sustainable, local foods for hospitals. Dale lives in Connecticut with her family.