Social media has become such a big part of our everyday lives. It is no surprise that pet lovers can now enroll their four-legged companions on social sites. We decided to research the pet social sites available, and must say we are amazed at the numerous ones out there. Over the next several weeks we will give you a sneak peek into each one we found. The benefits for joining other pet lovers can be very rewarding.
We have listed them in random order; however, there are several social sites that have one for dogs and one for cats, these sites we have kept together.
* * * * * * * * * *
Catster.com collects helpful and hilarious information for the worldly but still infatuated Cat aficionado. A resource for real cat owners who passionately argue the merits of catnip at dinner, have very real opinions on vet costs, and are willing to devote their time and financial resources to please the creature that really runs their households. Catster was founded in 2004 and has answers and advice for all nine lives.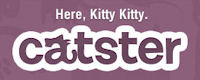 A great feature of the site is that you can find cats for adoption by entering your zip code.
Creating an account and joining the community is fast and easy.
Catster is an active participant on Facebook and Twitter.
* * * * * * * * * *
Dogster is the leading community for pet owners. Founded in 2004 by Ted Rheingold, Dogster is an award-winning online source for all things dog related, offering knowledge and trustworthy expert points-of-view, as well as a vast wealth of opinions, advice and wisdom from their large community of millions of pet owners.

Dogster makes it easy to find dog-friendly pet services, businesses, parks near you by entering a category and your zip code and/or name.
Creating an account and joining the community is fast and easy.
Dogster is an active participant on Facebook and Twitter.
* * * * * * * * * *
"PawsWay is a place for pet-lovers to connect, share, learn and celebrate their four-footed friends. Create a profile, connect with like-minded people and get to know the pets that have touched their hearts. Ask for or give advice. Swap stories and admire photos. And know that you're a welcome member of a community that loves pets as much as you do."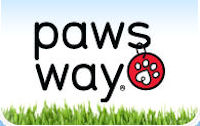 If you are in the Toronto area visit PawsWay Toronto and yes, bring your dog or cat. Join an event or discover their exhibits and explore the exciting world of pet behavior. Walk through the Purina Animal Hall of Fame™ and read the amazing stories of their pet heroes. There's so much for you and your pet to explore and learn.
Becoming a part of PawsWay online community is easy and free.
PawsWay is an active participant on Facebook and Twitter.
* * * * * * * * * *
Petocracy is THE one-­stop online community that provides dog and cat owners with helpful tools and trusted answers to your pet questions from a panel of Resident Experts across a variety of disciplines and a tight-knit community of fellow pet lovers.

Whether you are a Veterinary professional or industry expert, an experienced pet owner looking to share your insights, or a brand new pet owner looking for answers, the Petocracy community welcomes you!
Petocracy is giving all pet owners' the opportunity to create a better tagline for them. Click HERE and submit your tagline in the comments box. Best tagline wins a Petocracy prize pack and bragging rights for creating our tagline.
It's free and easy to join the Petocracy community.
Petocracy is an active participant on Facebook, Twitter, Pinterest and Google+
* * * * * * * * * *
Cuteness, founded in 2088 by Erick Laubach, is a fun community and shopping site made exclusively for pet people. It's a place where your dog, cat, fish, or anything else for that matter, can have their very own pet profile.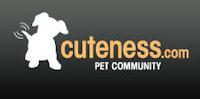 You can also pick the cutest pet in the 24/7 Battlezone, win fabulous prizes going head to head in the Thunderdome, challenge any pet to a cuteness duel with Pet Challenges, chat with other pets at the Dog Park, rate products, and buy products recommended by the community.
Coming Soon: ask pet-related questions, find a shelter, donate to pet charities, and more surprises! ! No prizes are awarded in the Battlezone – just bragging rights. Go battle!
Joining the Cuteness community is easy and free.
Cuteness is an active participant on Facebook and Twitter
* * * * * * * * * *
People 'N Pets Social Network, Where Pets are People Too. Connect to the community with Pets and Owners of all breeds and species!


The People N Pets Social Network is a free online community for people who love to talk about their pets. They love pets so much they created a social network for pet lovers.
Their mission is bringing people and the pets they love together.
Join the People N Pets Community
People N Pets is an active participant on Facebook and Twitter
* * * * * * * * * *