I've been reading a lot about stem cells lately and have taken a real interest. Not embryonic stem cells, but stem cells that are found inside our own human fat. Whether you knew it or not, the process of harvesting stem cells from body fat is already being done right here in the U.S.
I recently learned this fascinating topic also lends itself to veterinary medicine, too. To be honest, I never really thought about stem cells and pets until the folks over at Vet-Stem sent us an email to see if we were interested in hearing all about the new stem cell treatment that uses fat stem cells to save animals from painful arthritis. Yes, we're interested. Aren't you?
Maybe you saw the Bloomberg article about Hunter, the Golden retriever that was injected with his own stem cells. In the article the authors note that
In the race to perfect "regenerative medicine," stem cell therapy for animals is ahead of treatment for humans because it is not so strictly regulated. It's not experimental — it's here.

And while the debate rages over the ethics of embryonic stem cell research, doctors have made stunning progress with "adult" stem cells recovered from body fat.
Makes sense, doesn't it. Want to know more about the treatment? Read on!
Vet-Stem is the San Diego based company that created a treatment which regenerates injured tissue and and helps animals in pain to walk, run and play again. The company has been treating horses since 2002 and began treating dogs across the country in 2008. To date they have helped more than 5,000 animals and the results have been outstanding. In a recent study 75 percent of participants felt that the stem cell therapy had improved their dogs quality of life and more than 62 percent of participants said the therapy had allowed their dog to decrease, or stop altogether, using expensive pain medication. They were more than happy to share this case study about Otis with me:
Otis, an aging dog, suffered from severe arthritis after he was shot by burglars, run over by a car, and then diagnosed with severe hip dysplasia. His pain got so bad that it made it hard for him to walk, and Otis spent most of this time sleeping. His owners were sad to see their heroic pet in so much pain and were struggling with the limited options to try and improve their pup's life.

They could opt for an expensive and invasive surgery to try and correct the hip dysplasia and supplement it with a lifetime supply of medication for the arthritis. Or they could try a high-tech therapy that uses adult stem cells to treat injured animals and chronic arthritis. Otis' owners opted to try the stem cell therapy. After only a week, they noticed significant improvement in Otis' level of activity and they no longer had to help him to get up.
The Vet-Stem therapy uses adult stem cells taken directly from the animal's own fat. These adult stem cells are different from the controversial embryonic stem cells that are so prevalent in the media because they are taken from the adult animal itself and they are not manipulated in anyway. They work to naturally repair the tissue by spurring the growth of healthy cells. For many dogs, the therapy improved their mobility so much that their owners said they were acting like puppies again.
Here's How It Works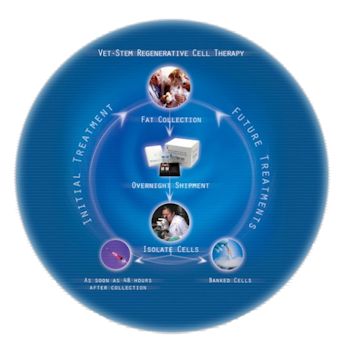 If your dog is a candidate for Vet-Stem, then your vet will remove a small portion of fat (about two tablespoons worth) from the underside of your dog's belly.
The fat will then be shipped to Vet-Stem where lab technicians will extract the stem cells from the fat. The stem cells are then put into a syringe and shipped back to the Veterinarian within 48 hours.
The vet will inject the stem cells into the injured area. For most dogs, it took less than six weeks to see the effects. Dogs that were previously unable to walk, have now been known to run, jump and play again.
In order to get this stem cell therapy, you have to go to a certified Vet-Stem vet. There are thousands of vets already certified, but if you are comfortable with your current vet, you can always ask them to become certified. Your vet will only need to take a free online course to be able to start using the Vet-Stem therapy.
For another case study, check out this video from YouTube about "Dogged Pain" . . .

For more information about the Vet-Stem stem cell therapy, visit vet-stem.com.
Diagrams courtesy of Vet-Stem.