Many people get tripped up when it comes to listing a pet on an apartment rental application, but renting with pets need not be intimidating. While there are many pet-friendly homes for rent, even if your landlord forbids pets, you can sometimes coax them if you know how to go about it. Though it may be tricky, here's how to successfully rent an apartment with a pet.
Never lie about a pet on a rental application.
Let's just get this one out of the way. A lot of people think that they can bypass the "no pet" rule by merely omitting Fido from the rental application. Don't do this. It makes you look like a liar from the onset. Plus, you insult your landlord's intelligence when you think that you can get away with fur on the couches, scratches on the door, and pee stains on the carpet for the duration of your lease.
If you lie about a pet on your rental application and get caught with one, you may have to get rid of the pet, pay hefty fines, and even face eviction.
Get references from previous landlords.
If this is not your first time renting with pets, get reference letters from past landlords. It may give your landlord a little piece of mind to know that Dash is not some demon dog hellbent on destruction.
Create a resume for your pet.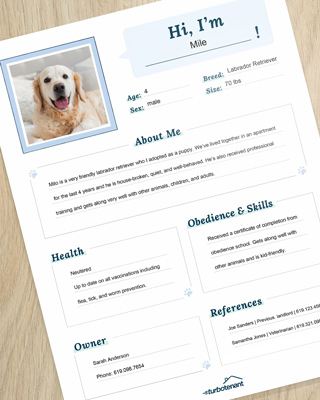 All landlords like and are searching for decent people to whom they can rent their homes or apartments. The same goes when searching for pet-friendly homes for rent. While you have the chance to chat with your landlord and let your personality shine, your pet does not have the same opportunity. Bridge the gap by creating a resume for your pet.
List all the specifics such as age, weight, breed, vaccination records, training/obedience classes, temperament, hobbies, and any other relevant information. Your pet's resume will likely get a chuckle out of your landlord and perhaps even a bypass of their "no pet policy."
Pet resumes are especially helpful when it comes to a breed that might be considered aggressive and can help the property managers see the animal in a fun and loving way.
Offer an extra security deposit.
Most landlords are not miserable prudes who enjoy sucking the joy out of their tenant's lives. Instead, they are owners who want to keep their rental home or apartment in good condition, and that's totally understandable.
If you want a little help convincing your landlord to let you keep your pets in your apartment, offer an extra security deposit – between one and two months' rent on top of your original deposit. This extra measure will show landlords that you are serious about ensuring that your pet is on its best behavior at all times. But a word to the wise: don't expect to get all of your security deposit, especially if your pet has created some legitimate damage.
Befriend the landlord.
When it all boils down to it, forging an actual friendship with your landlord is the best way to convince your landlord to let you have a dog or cat. If you have proper credit, excellent references, and are a genuinely kind and friendly person, they may be more apt to bend the rules in you and your furry one's favor.
Buck the system shamelessly.
This final piece of advice goes against my better judgment, but because I know that some "can't tell me nothing" individuals are reading this, I just want you to be well informed. If you insist on living in your apartment with your pet after your landlord has expressly forbidden it, know that the "three-month clause" can protect you. This clause states that once a companion animal has "openly and notoriously" lived in a multiple dwelling building (a building with three or more units) for three months or more, the no-companion animal clause is considered waived and unenforceable.
In other words, if you make no attempt to hide your pet from the building's owners, employees, and the owners' agents, and the building staff fail to report or reprimand you, then after three months, the companion animal cannot legally be evicted. Keep in mind that this law applies in New York City, although Westchester County has a similar law. I am not sure if other states adhere to this code, so do your research first.
Living in an apartment with your pet even after your landlord has expressed that the building is a pet-free zone doesn't necessarily mean that you need to look for a new place to live. Equipped with the proper information and right amount of charm, you can successfully rent an apartment with a pet.