We're always on the lookout for natural food and treats to feed our dogs so when we received an offer to test a new, all-natural, freeze dried pet treat from Terra Paws, we were more than willing to accept. We were quite excited because the company was just launched on June 6th, 2011 and we love finding healthy products for our furry friends.
Anthony Santarsiero, founder and president of Terra Paws, was kind enough to send us some sample bags. Right off the bat, the aroma of the treats must have been enticing to my canine companions because MoJo (a cairn terrier) sniffed it out of the bag I'd carried the mail in. He latched onto the padded manilla envelope amidst all the other odds and ends in the bag even though the treats were sealed inside several small (jewelry sized) baggies as well.
Throughout the day we offered the treats to see first how they liked them and then to discover if they liked one flavor more than another. At the end of the day it was plain to see that they absolutely loved all of them equally, though they might have leaned a tiny bit towards the Sweet Potato & Chicken flavored treats. The size of each treat is quite small so while they're absolutely perfect for small and medium sized dogs, we doubt they'd work well for larger breeds.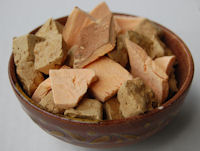 The company uses only US harvested ingredients that are produced to human grade standards, USDA and FDA certified, no preservatives, no additives or fillers and nothing artificial. Now that's a truly natural pet treat. They use a non-chemical freeze-drying process which retains the natural nutrients, enzymes and amino acids of the fresh ingredients.
The treat choices include turkey, chicken, sweet potato, beef liver, chicken liver and several combinations. The product is definitely worth trying, especially for use as a training aid since they're relatively guilt-free. We do know our dogs LOVED them. And we're told that cats flip for 'em, too!
Special Offer for PetsBlogs readers . . .
You can place an order at www.TerraPaws.com and enter promo code BL20 to receive 20% off your order. But you'll have to hurry – the offer ends July 31, 2011.