The 101 Dalmatians Musical
April 07, 2010 — April 18, 2010 at The Theater at MSG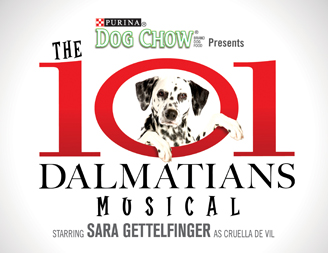 The 101 Dalmatians Musical is an experience for the entire family about what it means to be a family, canine and courageous. More than a simple story about good versus bad, the family bands together to overcome every hurdle and hardship in the most difficult times.
Led by the creative team of Jerry Zaks (La Cage Aux Folles, Smokey Joe's Cafe, Everybody Loves Raymond), B.T. McNicholl (Spamalot, Billy Elliot, Cabaret) and Dennis DeYoung (founding member of the rock group Styx, The Hunchback of Notre Dame), The 101 Dalmatians Musical will transport audiences to a slightly topsy-turvy, exciting, and altogether fantastic reality that gives grand license for song, dance and spectacle in a one-of-a-kind show that will leave everyone cheering.
Meet Rascal, one of the stars of the show!
RASCAL came from the Second Chance Dalmatian Rescue in Ohio. He was nursed back to health after having a broken leg. Trainer Joel Slaven took him to his farm in Florida where he was discovered to be an outgoing, confident, and playful puppy. Rascal keeps his trainers and roommates busy with all his energy and he is excited to show his skills on stage! Watch Rascal's video right here:
The dogs are making their way in the big city! Take advantage of this exclusive ticket discount offer for "The 101 Dalmatians Musical" playing April 7-18th at The Theater at MSG! SAVE 25 PERCENT on tickets and experience a heart-warming tale about what it means to be a family!
Get your tix here: http://www.theateratmsg.com/tickets/promotion.html?p_id=PAWS to take advantage of the 25% discount! Learn more about the musical at www.the101dalmatiansmusical.com/