This is a heartwarming story about an odd couple of friends that have been reared together at the Glen Afric Country Lodge near Pretoria, South Africa. Richard Brooker, 23, raised Salati and is an extraordinary animal lover.
It's a role reversal not commonly seen, but then the cat chasing this dog is a little larger than most. Salati, a ten-month-old leopard, and her best friend, golden retriever Tommy, like nothing more than to run around together before settling down for a friendly cuddle.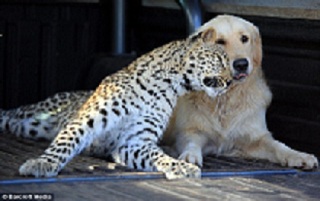 Salati, a ten-month-old leopard, leans in for a cuddle with her best friend, Golden Retriever Tommy. Richard takes Salati and family dog Tommy for their daily exercise together. Each morning, he walks them on his family's 1,850-acre estate and then lets them run free to their hearts' content. He said: 'Wherever you see one, the other is right behind. They are inseparable and both have lots of energy so they get the exercise they both need together.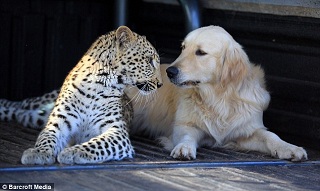 The pair take daily walks together at the Glen Afric Country Lodge near Pretoria in South Africa. When we first received Salati she was tiny and Tommy could chase her around. But now with Salati matching him for weight the tables have turned. It's all fun and games and they love playing together. But dogs aren't used to being chased by cats almost the same size as them. I think it was a shock for him when she started doing the chasing but it's fun to see them exploring together.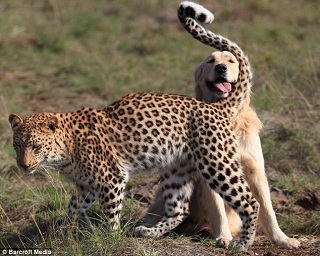 Tommy and Salati enjoy a bit of rough and tumble in the South African bush. As a cub Salati was much smaller than friendly Tommy, who weighs 18lb. But the fast-growing predator now packs a bigger punch at a hefty 40lb, more than twice the weight of her excitable dog friend. Mr Brooker added: Dogs need to walk and going out with Tommy for a ramble in the bushes means Salati develops properly into a fit adult leopard.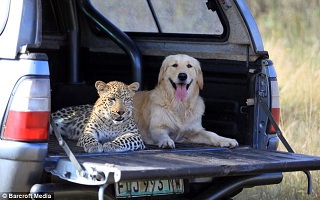 The pair lay contentedly together in the boot of the four-wheel drive. I take them out in the truck so they can have a good run-around together in lots of space. Rescued as an orphaned cub, Salati was donated by a local vet to the family-run country retreat, which helps to rehabilitate injured and destitute animals. Breeding programs at the spectacular venue also ensure that some of their animals who will never be able to survive in the wild enjoy the good life within huge enclosures. The Brookers' hard work has helped boost wildlife numbers in the area. They have over 200 animals across 32 species on the grounds. The stunning getaway is visited by resident guests staying at the lodge and day visitors who want to see Africa's amazing creatures including lions, elephants and giraffes.