They say the grass is always greener on the other side. I don't believe that to be true. It seems actually to be green with sporadic grassless patches, brown spots, most surely marks of territory, accidents, or most commonly a simple relief the bladder.
Before making the decision to get a dog, I often saw the people with the "I love my miniature schnauzer" or "my Labrador is smarter than your honor student" stickers on the back of their minivans and laughed hysterically. And while I can proudly say that my affection towards my dog has not yet reached the level of altering the appearance of my vehicle, I can say that I have joined the canine club. If loving my dog to nauseating amounts is wrong, then I don't want to be right.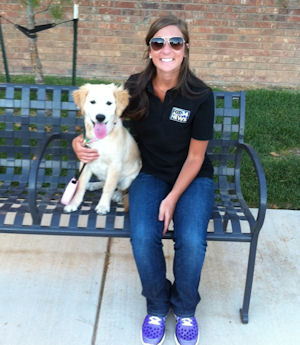 It hit me just how far gone I was over the Thanksgiving holidays. My fiancé and I were traveling to spend time with his family and of course Paisley, our 8-month-old golden retriever, had to come. We loaded her kennel, which honestly is as big as a small Manhattan studio apartment into the back of the Tahoe and embarked on our 6-hour journey. After two hours, we stopped for a human and puppy pee break and when we opened the doors of the kennel, Ole' Paisley girl was covered in vomit. Poor baby was carsick. Now how do you think I – who hates when my fiancé even sneezes because it makes me think of boogers – reacted when I saw her in that kennel? I immediately comforted her. I hugged her, I cleaned her kennel, and for the rest of the trip, I smelled like kibbles and bits.

We eventually made it to our destination. Sure, I was covered in vomit and smelled worse than my animal, but nonetheless, we were done traveling. Thanksgiving came and went but we were in Houston for our Thanksgiving holiday, of course we wanted to shop on black Friday. Only problem? Little Paisley is very strictly kennel trained and isn't allowed to roam the house when we are gone in fear that everything we own will be ripped to shreds upon our return. What we then discovered as an option for Paisley's amusement while we were shopping was something that immediately made me raise my eyebrows. Doggie Day Camp. It's as if the golden arches of doggie heaven were glowing at us as we read the advertisement online. A place to take your dog so they can play while you play? A place that helps to reduce the guilt of actually having fun without them? A place where you can pay extra for pedicures, ice cream cones, and animal movie time?
I immediately knew if I signed her up – if Paisley became a day camper – that I had reached a point of no return. Go ahead, slap a bumper sticker on the back of my Tahoe because if my dog goes to day care, then obviously I'm going to think she is smarter than your honor student.
Nine hours later, after shopping till I stumbled in exhaustion out of the Houston Galleria, I remembered sweet Paisley. Walking into the "day camp" that conveniently lasted until 9 pm, I wondered if she would be huddled in a corner with a pitiful look that read "ABANDONED BY TRAITORS" or "HELP! MY MOM MISTAKED ME FOR A DOG AND TOOK ME TO PETSMART."
But when I caught a glimpse of her, she wrestling with a Brittany Spaniel, tail wagging faster than my heart was beating. I tapped on the glass and she didn't even look up. I tapped again; she looked, and then went back to playing. My heart sunk for a moment. Perhaps playing with me wasn't the most fun she could possibly have? I felt like a mother watching her child leave for the prom. I quickly tapped on the class again with a treat this time, you know, just to remind her who her favorite was …just in case she may have let it slip her mind while playing with her new four-legged friends.
That night, as Paisley and I both slept in the car on the way home from our day shopping in Houston, we both thanked the puppy Gods that I had crossed over from the green side to the brown spotted side of the park.
When Diana Holoman isn't working, she enjoys going out to eat, playing with her new Golden Retriever Paisley and watching college sports with friends and family. Although she is a Tar Heel born and bred, she is excited to have the opportunity to live and experience life in Lubbuck, Texas.