A veterinary surgeon, Christie Tomlinson, went to a Colorado rescue center to find a playmate for her golden retriever and saved the life of Naki'o a red heeler cattle dog. This is not your normal 'save the life' of a shelter pet. We here at PetsBlogs hope that 2012 will bring many more wonderful stories of saving pets!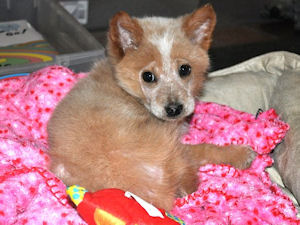 Naki'o was barely 5 weeks old when he and his brothers and sisters were abandoned by a family fleeing their foreclosed home. He barely survived the Nebraska winter, after being stuck in an icy puddle all four of his paws were deformed. He suffered such severe frostbite that he was left with just stumps to move about on. The damage to his paws left no alternative but amputation.
"I've always had a soft spot for animals with problems. I knew I had the skills and knowledge to be able to take care of him properly. I took him to work with me every day and was able to x-ray his legs regularly to see how they were developing." At first Naki'o was small and light enough to hold himself up on his stumps without too much difficulty. But as he grew and gained weight it became painful for him to walk, especially on hard surfaces. "I felt so bad for him as his condition worsened," said Christie. "He is such a hyper and happy dog, but I was having to take him for walks in a stroller and carry him around. He couldn't be a normal dog, he couldn't lead the life he wanted."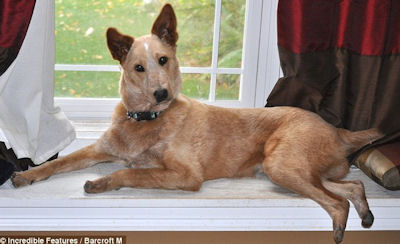 Christie found a company called OrthoPets located in Denver, Colorado. The company was founded by husband and wife team Martin and Amy Kaufmann in 2003. Martin saw that his experience in creating human orthopedic devices could be adapted for animals. He felt it was barbaric that in the 20th century dogs were still having legs amputated. Orthopets decided to fit Naki'o with 'new legs' FREE OF CHARGE. It was the first time they'd fitted an animal with a complete set of new legs.
"I thought we should be using the technology used for humans on our pets. An animal is a much better patient than a human. They have drive, determination and they just won't quit. They don't feel sorry for themselves."
Naki'o was so much more fortunate than most shelter pets. He has two wonderful hero's that gave him a new life. He can now leap and bound with the best of them. At the park he can interact with the other dogs and play without a care. Christie is amazed at her pet's motivation and joy for life. 'He was always a happy dog, but now he's much more confident,' she said.
Orthopets is working to open clinics worldwide. As well as dogs, they have fitted cats, horses, llamas and a stork with state of the art prosthetics.
OrthoPets Company Vision
"The vision of OrthoPets is to improve our patients' quality of life through innovative prosthetic and orthotic solutions. We have found great success in implementing the same adaptive technologies used in the field of human orthotics and prosthetics to care for our animal patients. OrthoPets strives to give each patient a second chance to enjoy a normal life. We have found our non-invasive health care options can drastically improve the quality of life for a wide variety of animals."