With Home Foreclosures Displacing People and Dogs Alike, Shelters and Rescue Groups Need Adopters
DENVER, Sept. 23 /PRNewswire/ — The housing crisis and economic turmoil have taken their toll on an unexpected group: dogs.
Driven largely by the rising tide of home foreclosures, animal shelters across the country are overpopulated with furry friends. While no national statistics exist, shelters across the country say they are receiving dogs everyday from displaced homeowners. With more dogs than adopters, shelters are facing a tragic scenario: euthanizing dogs that would, in the past, be snatched up for adoption.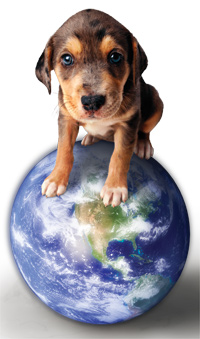 Solving this huge problem is top of mind as the American Humane Association prepares to celebrate its annual anniversary of Adopt-A-Dog Month(R) this October. Adopt-A-Dog Month® is an effort by American  Humane to support canine adoption from animal shelters while spreading the word about responsible pet  care. American Humane is a 130-year-old organization dedicated to protecting both animals and children. This year's American Humane Adopt-A-Dog Month is being sponsored by FetchDog.com, which offers dog people a place to find the highest-quality dog supplies and credible advice on their dog's health and wellness.
"Economic times are tight. Now, more than ever, there is a real need and a great reason for people who want  a dog, to get it from their local animal shelter or rescue group," says Marie Belew Wheatley, president and CEO of American Humane. "Shelters are literally packed with obedient, loving, trained dogs right now. By  adopting a dog from a shelter this October, or at any time, people can save the lives of these precious animals and give them much-needed, loving homes."
While American Humane strongly encourages shelter adoptions, potential families should consider the  following before visiting the local shelter:
Dogs Require Exercise Just Like Humans
— A survey by the American Pet Products Manufacturers Association shows an increasing number of dog  owners are citing activity including "walking, jogging and exercise" as the top benefit of having dogs in their lives. Look for a dog with activity needs that suit your lifestyle.
Dogs Aren't Wallflowers
— Dogs are social pack animals and need time outside, around other people and dogs. Keep this in mind if  you work long hours or travel extensively. However, if you're looking to make new friends, a dog can be a great connector.
Dogs Are Family Pets
— Adopting a dog must be a family decision. Because dogs become members of the family, it is unrealistic  to think that one person will assume all responsibility. Everyone in the home must be prepared to care for the dog.
They Aren't Much Different Than Children
— Like children, dogs are completely dependent on their owners for all their needs, including food, water,  health care, exercise, shelter and, most important, companionship. This is an important consideration if you have an on-the-go lifestyle.
Dogs Are A Long-term Responsibility
— Your new best friend can live to be 15 years. Make sure you're ready for the long-term commitment, and  you'll realize the benefits are great.
Dog adoption isn't something to take lightly, but it's a rewarding, life-changing experience. To learn more  about the adoption process, visit American Humane's Web site at http://www.americanhumane.org or your  local shelter or rescue group.
About American Humane
Founded in 1877, the American Humane Association is the only national organization  dedicated to protecting both children and animals. Through a network of child and  animal protection agencies and individuals, American Humane develops policies,  legislation, curricula and training programs to protect children and animals from abuse,  neglect and exploitation. The nonprofit membership organization, headquartered in  Denver, raises awareness about The Link(R) between violence to people and violence to animals, as well as the benefits derived from the human-animal bond. American  Humane's regional office in Los Angeles is the authority behind the "No Animals Were  Harmed"(R) end-credit disclaimer on film and TV productions, and American Humane's  office in Washington, D.C., is an advocate for child and animal protection at the federal  and state levels. The American Humane Certified(TM) farm animal program (http://www.thehumanetouch.org) is the nation's original independent certification and labeling program for humanely raised food. American Humane meets the strong,  comprehensive standards of the Better Business Bureau's Wise Giving Alliance, has been  awarded the Independent Charities of America's "Best in America" Seal of Approval, and  has met the stringent standards for financial efficiency and accountability required by  the American Institute of Philanthropy to qualify as a Top-Rated Charity. Visit americanhumane.org to learn more.