Nearly 6 in 10 Americans drive with their dog in the vehicle at least once a month, according to an AAA/Kurgo survey. Dogs make the perfect companions on road trips, friendly visits, and of course, at work, with a growing number of offices now going pet-friendly as a result of the stress-busting effects that 'pets on the job' can have. If you have a puppy, training them to ride in the car is pretty easy, as they can grow used to being in a car as you go along. If you have just adopted an adult dog, however, issues like anxiety from past experiences may make a car ride a little more challenging. Follow these tips and your dog will be your best, calmest passenger in no time.
The Car as a Playground
The first step to reduce stress for your pet in your vehicle is to turn it into a 'giant play pen,' at least during training. Bring treats into the car, as well as your dog's favorite chew toy. Simply sit with them in the car in a shady spot and read a book or interact with your dog until they begin to see your vehicle as a comfortable place where they feel safe. If you have more than one vehicle at home, opt for a larger and sturdier vehicle type if you can, as space may become an important consideration as your dog grows. An SUV or van is perfect for a family traveling with dogs, since you will have enough room for your dog's crate (if you decide to use one). Try to avoid traveling with a dog in a pick-up-style truck, as it's known to be unsafe for them to ride freely in the truck's bed.
Securing your Dog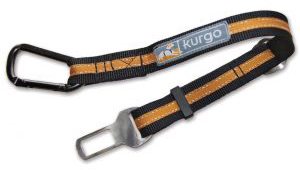 In order for dogs to travel safely, they should either be in a crate or harnessed down to the seat with the help of a 'doggy seatbelt.' If you want your dog to use a seatbelt instead of travel inside a crated structure, you can use waterproof seat covers to keep your car in good shape. Once your dog (and all other passengers) are safely buckled, you are ready to start moving.
We love Kurgo's versatile direct to seatbelt swivel dog collar tether (you can find that here).
Protecting Your Car's Seats & Comforting Your Dog
We highly recommend this Luxury Car Seat Cover from BarksBar at Chewy. Two of us here at PetsBlogs purchased this and we love it. It totally protects a back seat: it's heavy-duty and waterproof and it stays in place. It's machine washable. Plus, while you can use it like a regular car seat cover by simply snapping the straps around the headrests and tucking in the seat anchors, you can also convert it into a hammock when it's just the dog (or dogs) in the back seat. The hammock is created by taking the bottom half (that covers the floor when it's not being used as a hammock) and securing it around the front seat headrests. It's awesome and versatile (and affordable)!
Little by Little Does the Trick
Take very short rides at first, and if you notice your dog is anxious, lengthen your drives in accordance with their comfort level. In severe cases, you will need to train your dog to simply listen to the sound of the motor revving up. You can do this by turning the motor on and off a few times until your dog gets used to the noise — consider this a bit like 'exposure therapy' for phobias. If you are going on a road trip, bring relevant documentation in case your dog needs to visit a veterinarian.
Dealing with Motion Sickness
If your dog vomits when they are in a moving vehicle, it's wise to see your vet. Your dog may have a medical issue that is causing the problem. The vet may simply recommend limiting food and water intake to a minimum of two hours before your trip. They might also recommend motion sickness medication if the situation does not approve. For some dogs, vet-approved ginger or other calming supplements sometimes does the trick.
Remember . . .
Getting an adult dog used to riding in a car takes time and patience, but by turning the process into an adventure, you can make it more enjoyable for the whole family. Start out with short trips, lengthening them little by little. Finally, if your dog has motion sickness, see your veterinarian about how to adopt a useful strategy that will ease your dog's distress.
Featured Photo by Michael Bartlett on Unsplash