The holiday shopping season is definitely in full swing and since we talked about Christmas gifts for dogs and their owners on Black Friday, we thought it only fitting to mention some ideas for unique Christmas gifts for cats (and their owners) since today is Cyber Monday!
Got a lot of cat-lovers on your holiday your shopping list this year? Here are some funny, sweet, and unbelievably unique fun stuff for kittens, cats, and the people that love them. We hope you enjoy these holiday gifts for cat lovers. We think they're purrfect for four-legged friends and their owners.
1. Safety First
While using a seat-belt type harness generally works well for dogs, cats tend to do better, in general, in a carrier. There's something about the security of an enclosed place that cats seem to like.
K&H offers a great carrier for your cats when traveling in the car. You can secure this carrier right to the seat and let your feline friend enjoy the comfort and safety of the navigator's position. It has a removable, washable pad inside for your cat's comfort. It also features mesh windows all around so your cat can see you and the view.
The strap at the top secures it around the headrest and there are also straps for a seat belt to securely tether your pet. Super easy access points so you can use it on either side of the back seat, too. And, best of all, it folds flat when it's not in use so it's easy to store.
2. Custom Holiday Bling
Consider some new bling for your cat-loving friend's feline. This soft velvet adjustable cat collar features a bell (appreciated by all cat owners) and a pretty crystal heart charm. It's made from soft, stretchy material so it's comfy for kitty.
Need even more bling?
Idolpet's Rhinestone breakaway cat collar also includes a bell, is made of soft velvet and is adjustable. If your friend's cat isn't used to sporting a collar, a breakaway one is a great idea. And these are really, really pretty.
Want something holiday festive?
From bows and flowers to bandanas, you can gift your friend a festive cat collar.
Thinking more practical?
GoTags personaliszed cat collars let you customize it with embroidery that notes your friend's phone number and pet's name. Very practical.
3. Good Kitty Treat Jar
House of Daisy offers a really treat jar for kitty lovers. It's airtight, food-grade glazed ceramic and holds about 24 ounces worth of treats.
If your friend enjoys a modern motif, check out this kitty ears treat jar from Nambe. Super cute! It's made of bone china and features an acacia wood lid. It seals tight to keep kitty treats fresh!
Want to really step up your gift-fiving game? Be sure to fill up the treat jar with treats before giving it to the cat-lover on your list. They (and their cat) will appreciate the extra thoughtfulness!
4. Personalized Ornament
A great way to celebrate kitty's first Christmas, or any Christmas for that matter, is with personalized ornaments. We love simplicity, but consider your friend's taste, and cat or cats, when picking out an ornament!
Thinking polyresin, personalized, and super cute?
This super cute cat ornament features a tuxedo cat handing on a wreath with places for the cat's name and a year. Super charming! Be sure to choose the cat that matches your friend's feline friend. Theyre's black and white (this tuxedo guy) along with choices for a gray cat and an orange cat instead.
The holiday traditions store is a great place to look for inspiration and they usually come with free gift wrapping (like boxed in a gift bag full of tissue paper kind of gift-wrapping)!
5. Meow Memo Pads
Memo pads are always a handy gift!
Find notepads with cute cats and you've got a great gift for your cat-loving friend. Add in fun cat-themed gel pens or this really pretty cat-themed mechanical pencil and you've got yourself a pretty thoughtful gift to give.
6. Crunchkins Catnip Christmas Card
Crunchkins bring cats (and cat owners) Holiday cheer! Because kitties like Christmas, too, here's a card made especially for cats. Unlike the rawhide Crunchkins cards for dogs, the entire card isn't meant for the cat to chew. Instead, the card comes with a detachable catnip toy. Its' the tree on one card, the heart on the other.
Each Crunchkin Holiday catnip card comes complete with a festive envelope, so they can be mailed to all your pet-loving friends to show them how much you care.
7. Oversized Totes & Bags
This zippered tote is perfect for the crazy cat lady – or the lady who's crazy about cats – in your life! A really pretty blue bag featuring lots of cats. Best of all, the Blue Q store's handy bags are sturdy, easy to clean, and made from strong 95% recycled material . . . with several different sizes and designs to choose from.
Thinking a little fancier?
Perhaps a cat-themed purse is right up your friend's alley. Consider a Kate Spade Meow Crossbody or a Laurel Birch Indigo Cats shoulder tote!
8. Self-Flushing Litter "Box"
CatGenie requires a one-time, simple hook up to cold water and an electric outlet. It uses litter-like washable granules to satisfy your cats need to dig and cover. When kitty goes, the liquid drains away from the Granules so only the waste gets flushed down the drain.
When cleaning starts, the GenieHand scoops out the solid waste, which gets liquefied for safe, easy removal. Now, you can either push a button, set the timer, or have your cats start the CatGenie cleaning process. Cat Activation is the cleanest and most efficient method.
9. Cat-Opoly?!
You may have to pay dog tax to get past the neighborhood bully, a spike collared bulldog, or worst of all, you may fall in the water and be out for three turns. Cat-astrophic! There's nothing madder than a wet cat! Cat-opoly is great fun for family and friends.
10. Fling Ama String Toy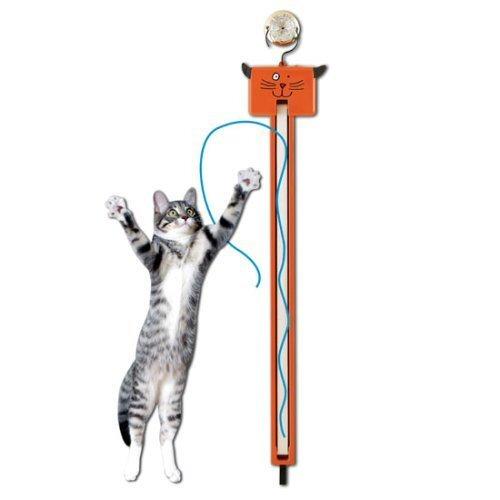 Though it's kind of a weird name for a toy, we watched the video they have on the product page and think it looks like tons of fun for a cat (and the people watching). Fling-ama-string hangs from a doorknob and flips a string out to grab your cat's attention and then pulls the string back in, enticing your cat to chase it. The string action stops as soon as it feels the slightest resistance and then resumes pulling as soon as your cat lets go.
Three AA batteries and Fling Ama String will have your cat stalking, pouncing, and leaping!