The holiday shopping season is definitely in full swing and since we talked about Christmas gifts for dogs and their owners on Black Friday, we thought it only fitting to mention some ideas for unique Christmas gifts for cats (and their owners) since today is Cyber Monday!
Got a lot of cat-lovers on your holiday your shopping list this year? Here are some funny, sweet, and unbelievably unique fun stuff for kittens, cats, and the people that love them. We hope you enjoy these holiday gifts for cat lovers. We think they're purrfect for four-legged friends and their owners.
1. Safety First
While using a seat-belt type harness generally works well for dogs, cats tend to do better, in general, in a carrier. There's something about the security of an enclosed place that cats seem to like.
This is the SturdiShelter Car-GO Single Bordeaux Portable Pop Up Carrier
from PETCO, designed to make it easy to bring your small pet's entire home with you. All SturdiShelters(TM) arrive in an over-sized carrying case with room for shelter accessories, food, water, meds, vet records, toys and other travel essentials. There's an external vinyl water bottle pocket that allows use of a bottle with a spout that can extend into the shelter through a grommet, allowing you to see the water level and avoid spillage.
SturdiShelters(TM) are designed to create a "zone of safety" for your cats when traveling in the car. Secure to the seat by threading the vehicles' seat belt/shoulder harness through the seat belt loops on the back of the Car-GO and clip in. Use in your home, the car, hotel, RV or as the foundation for your pet's emergency preparedness plan. Includes a deluxe "egg-crate" style fleece pad for the utmost comfort.
Plus, Keep Your Cat Busy – Get 40% Off Cat Furniture at PETCO.com!
2. Custom Holiday Bling
Creating holiday glamor for your cat has never been easier. Start by choosing a Dickens' Closet Create-a-Collar for your pet's size and then personalize it with letters and other fun charms, which are sold separately.
For Christmas, start with the luxury of red velvet like the one shown here. Then personalize it with the cat's initials, nickname, and fun shapes by sliding on one or more of the dazzling rhinestone charms available.
This rhinestone heart charm is a good start to add some sparkle to your cat's style on the red velvet Dickens' Closet Create-a-Collar collar above. There are lots and lots of charms to choose from. Make a stunningly unique gift for your own cat, or the cat of a friend, by personalizing a collar with initials, name, nickname, and fun shapes just by sliding on the charms.
Plus, Keep Your Cat Busy – Get 40% Off Cat Furniture at PETCO.com!
3. Good Kitty Treat Jar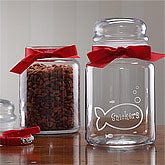 Personalization Mall offers this adorable, 7-inch tall glass treat jar with a "fishy" cat design that can be personalized with a cat's name.
The glass jar is hand-crafted with subtle markings inherent to glass products made by hand. These markings add to the uniqueness of the gift, so no two are every quite alike. The treat jar also features an air-tight lid for keeping kitty kibble or snacks fresh and tasty.
It holds 31 ounces, so for a super special gift, be sure to fill it up with treats before giving it to the cat-lover on your list. They (and their cat) will appreciate the extra thoughtfulness.
Plus, Save an extra 10% Off Cyber Monday Deals with code PMXMAS10
4. Personalized Ornament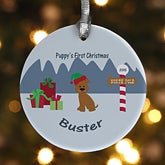 A great way to celebrate kitty's first Christmas, or any Christmas for that matter, is with this porcelain Pet Character© Personalized Ornament. It's a unique, personalized gift that's sure to be cherished now and for years to come.
The ornament can be made with any title, name and year featured within the exclusive north pole design. And you can choose the cat's color, too! It comes with a shimmering silver lame ribbon for easy hanging and is presented in a handsome, velvet drawstring bag making it ready for gift-giving (and providing protective storage when not in use). This ornament makes a grand stand-alone gift, but you could also personalize any gift by using the ornament as a unique gift tag.
Save an extra 10% Off Cyber Monday Deals with code PMXMAS10
5. Meow Memo Pads
These cat memo pads from Current (set of 2) feature an orange tabby and a gray tabby on a pretty pink background. Each adorable notepad comes with 50 sheets of paper and are sure to give your cat-loving friend's notes, memos, and lists a personality like never before.
The pads aren't lined, but they do have a line of pink paw pads going up the right-hand side, leading to the goldfish bowl at the top. We're particular fond of anything with cats AND butterflies, so this is one of our favorites.
Plus, get FREE Shipping & SAVE 20% on your $40 order at Current . . . Starts 11.22.10 and Ends 12.1.10
6. Crunchkins Catnip Christmas Card
Crunchkins bring cats (and cat owners) Holiday cheer! Because kitties like Christmas, too, here's a card made especially for cats. Unlike the rawhide Crunchkins cards for dogs, the entire card isn't meant for the cat to chew. Instead, the card comes with a detachable catnip toy. Its' the tree (the one highlighted in the yellow circle).
Each Crunchkin Holiday catnip card comes complete with a festive envelope, so they can be mailed to all your pet-loving friends to show them how much you care.
Plus, get FREE Shipping & SAVE 20% on your $40 order at Current . . . Starts 11.22.10 and Ends 12.1.10
7. Indigo Cats Oversized Tote
This zippered tote is perfect for the crazy cat lady – or the lady who's crazy about cats – in your life! A really pretty indigo blue bag featuring a trio of cats from the signature artwork of artist Lauren Burch.
Her totes are designed to be practical and useful, and the brilliant hues and wonderful patterns of her carefully designed bags appeal to everyone.
There's also a medium sized, zippered tote bag featuring five Crimson Cats
.
Plus, Spend $100 or more in the Pet Supplies Store and get an extra $10 off – Buy.com! Expires 12.18.2010
8. Self-Flushing Litter "Box"
This uber-cool, potty looking litter box is the CatGenie 120 Self Flushing, Self Cleaning Cat Box
. Touted as the greenest cat box ever, we definitely think it's one of the cleanest choices for cat owners who have a litter box. Got someone on your holiday gift list who's sick and tired of their traditional litter box? Blow them away with this 'out of the box' idea.
CatGenie 120 requires a one-time, simple hook up to cold water and an electric outlet. It uses litter-like washable granules to satisfy your cats need to dig and cover. When kitty goes, the liquid drains away from the Granules so only the waste gets flushed down the drain. When cleaning starts, the GenieHand scoops out the solid waste, which gets liquefied for safe, easy removal. Now, you can either push a button, set the timer, or have your cats start the CatGenie cleaning process. Cat Activation is the cleanest and most efficient method.
Plus, Cherrybrook has a variety of Holiday Items
for people who are passionate about pets.
9. Cat-Opoly?!
Yep, Cat-Opoly is the Monopoly game for cat-lovers. A feline frenzy of fun. Buy your favorite cats such as the Tonkinese, the Ragdoll, the Abyssinian, the Sphinx, or the Maine Coon. Land on Catnip and collect everything in the center of the board. Collect Litter Boxes and trade them in for Fish Bones.
You may have to pay dog tax to get past the neighborhood bully, a spike collared bulldog, or worst of all, you may fall in the water and be out for three turns. Cat-astrophic! There's nothing madder than a wet cat! Cat-opoly is great fun for family and friends.
Plus, Spend $100 or more in the Pet Supplies Store and get an extra $10 off – Buy.com! Expires 12.18.2010
10. Fling Ama String Toy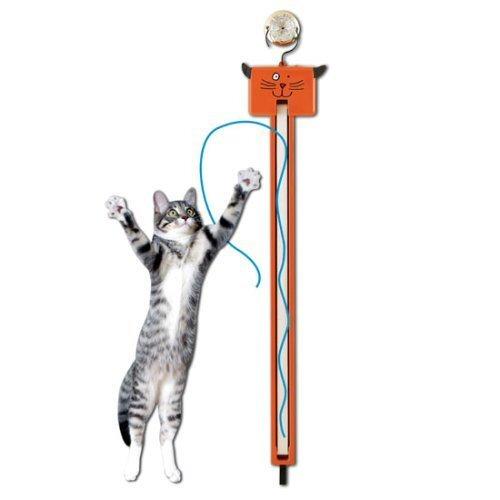 Though it's kind of a weird name for a toy, we watched the video they have on the product page and think it looks like tons of fun for a cat (and the people watching). Fling-ama-string hangs from a doorknob and flips a string out to grab your cat's attention and then pulls the string back in, enticing your cat to chase it. The string action stops as soon as it feels the slightest resistance and then resumes pulling as soon as your cat lets go.
Three AA batteries and Fling Ama String will have your cat stalking, pouncing, and leaping!
Plus, All Pets Considered offers a wonderful selection of gifts for pet lovers, most of which are available in a large variety of breed choices.
Need even more ideas?
Check out these special deals . . .