With Thanksgiving under our belts (literally), the holiday shopping season is upon us. Today is Black Friday, and Cyber Monday is just around the corner, so we thought it would be a good idea to start talking about some unique gift ideas for our pet loving friends and for those who could use some help finding gifts for their pet loving friends. And we're starting with holiday gifts for dog lovers!
From the fretfully funny to stunningly sweet and unbelievably unique, we bet you'll find something perfect for yourself (or your dog), and for the pet people on your gift list who love dogs, too!
1. Safety First
This Canine Auto Safety Harness
from EntirelyPets offers some really great overall features, strength, and durability. Pet Safety Restraints for your Dog helps prevent driver distraction and reduce injuries should an accident happen. It might even be a law in your state. This one comes in 3 different sizes (Small: 25-45 lbs. Medium: 45-70 lbs. Large: 70-110 lbs.), with each being adjustable to conform to your dog.
On the safety side of things, you could give the gift that protects a dog when he's riding in a car. Seat belts protect all other passengers, so why shouldn't Fido be just as secure during the trip to Grandma's house? And since Fido's like a member of the family, an auto safety harness just makes good, practical sense.
Plus, they're offering Free Regular Bonies with any order – coupon code FREEBONIES3!
2. Reindeer Antlers & Jingle Bell Collar
It doesn't get much better than having your very own reindeer at Christmas time. This set of plush antlers and jingle bell collar won't give your dog flying power, but it does give him the power to entertain.
And it gives you the power to track his every move since he'll jingle jangle jingle when the collar is on. The set features a comfy headband (or so we've been told) and a covered elastic collar in classic holiday plaid. Perfect for holiday portraits or festive parties, it comes in 3 different sizes (Small, Medium, and Large) and has an adjustable chin strap.
Plus, they're offering $5.99 Flat Shipping at dog.com!
3. Puppy Loving Pranksters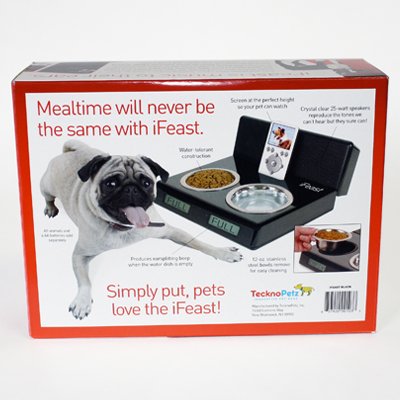 Got a geeky dog-loving friend? Or know someone with all the latest gizmo's and gadgets who happens to own a pug and would love to have a portable pet feeding system for his mp3?
If you have a sense of humor, this empty box can be a lot of fun. That's right, the box is empty – so you'll have to put a real gift inside – but the fun of confusing a dog-owning aunt is worth it. This is PERFECT for Secret Santa and other gift-swapping games.
Plus, The Onion has offered a 15% discount code to PetsBlogs readers! All you have to do is enter PETSBLOGS as the coupon code at The Onion Store.
4. Personalized Notepads
For the dog lover who seems to have everything, consider this set of 4 personalized Wags(TM) notepads from the Wags and Whiskers® by ©Suzy Spafford. You can specify up to 24 characters and spaces, so get creative. It doesn't have to simply be Lucy Smith or The Smith Family – you could also use Fido's Owner or give them as a gift to your vet or your local shelter using their business name.
If you blog, like we do, put your blog name or address. We think these would look great with PetsBlogs.com written across the top! There are 4 pads, each different sizes, with 100 sheets of personalized paper.
Plus, Current is offering Click Here and Save 15% on All $20+ Orders in November, 2010
5. A Biscuit A Basket
Biskit Basket's Two Good Gourmet Dog & Owner Gift Basket brings a unique assortment of food and drink for both dog and owner.
The festive basket features an assortment of delicious cookies and sweets, an outstanding new product Senorita by Wine Glace, and a bottle of Bark Vineyards fine canine wine, too.
Biskit Basket touts that Jennifer Aniston has enjoyed their services. This would make a very impressive gift, indeed.
Plus, since it arrives beautifully wrapped you have it shipped directly to your pet-loving loved ones!
6. Believe it or not!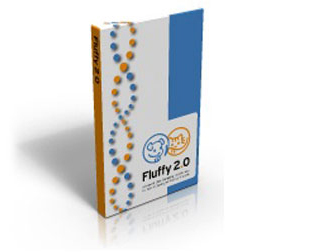 Believe it or not, you can give the ability to clone a beloved dog in the future to your dog-loving friend or family member. Fluffy 2.0 is a DNA collection and storage company out of Atlanta, Georgia, and they provide a home kit that comes complete with all the necessary materials to collect DNA from a dog without any pain or distress to the animal. Once the DNA is collected and returned to Fluffy 2.0, it can be stored for years – or until the pet owner wishes to retrieve it for cloning purposes. This is BEYOND unique and is a gift that can keep on giving if cloning is for you (or for them).
Plus, Fluffy 2.0 sent us a complimentary home kit, and we'll be giving it away to a lucky PetsBlogs reader in the very near future. So if this is something you'd like to have (or to give to one of the people on your holiday shopping list), stay tuned.
7. Snowman Playmate
Forget Frosty, this soft and squeaky snowman with a cheeky grin and nibble-ready carrot nose is far more fun for furry friends.
With a fluffy pair of earmuffs and fleecy striped scarf, PETCO's plush snowman with braided rope makes for a wonderful holiday playmate that's nearly too cute to let your dog chew! But dogs will love to chew on the braided rope and little carrot nose. Oh, and it squeaks, so it's great for fetch!
Plus, if you need some treats for your own dog's stocking, PETCO is offering Get Up to 40% Off on Dog Chews!
8. Edible Greeting Cards
Crunchkins bring dogs (and dog owners) Holiday cheer! They're made with 100% natural rawhide and non-toxic, water-based ink – so they're completely safe for dogs to chew.
Developed by a veterinarian, any of these festive cards from PETCO make great gifts. And each Crunchkin Holiday rawhide card comes complete with a festive red envelope, so they can mail them to all your pet-loving friends to show how much you care.
Plus, if you need some treats for your own dog's stocking, PETCO is offering Get Up to 40% Off on Dog Chews!
9. Happy Howl-i-days Treats
This super-cute holiday tin comes packed with an assorted 6 ounce bag of all natural, made-in-the-USA dog treats using human quality ingredients. And, they customize the lid with any 2-line personalization for that extra-special touch.
The dog's name will be printed in various fonts all over the background for a fun and festive look and the tin comes tied off with a red and white satin ribbon, so it's ready to give (or can be sent directly)!
Plus, you can Save $5 Off Orders of $25 or More on Black Friday Deals with code PMALL5D
10. For The City Dog & Owner
360 Dog Leash – A non-retractable leash with a flashlight, LED lighted hoop handle, and a built-in poop bag compartment! Plus, it's hands-free with an anti-slip handle and a tangle free heavy duty reflective leash.